News Release
The U.S. Marshals serves as the enforcement arm of the federal courts and is involved in virtually every federal law enforcement initiative.
Below are the news releases shared across the U.S. Marshals Service's 94 districts informing the public of the day-to-day activities ranging from fugitive arrests, asset forfeitures, prisoner operations, judicial security measures as well as highlighting individual achievements and success stories within the agency.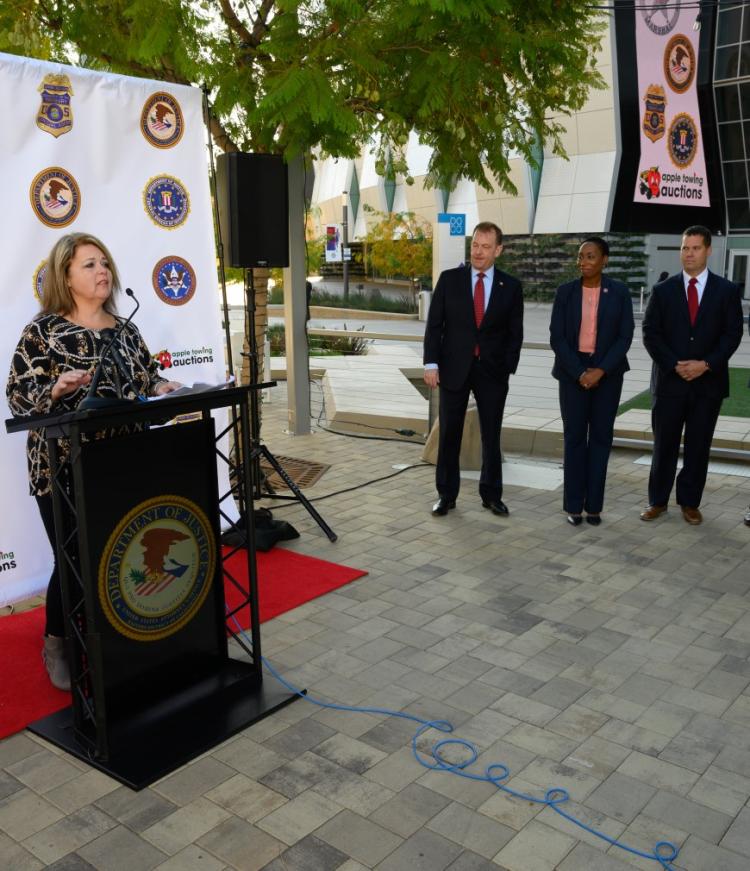 Two Suspects Arrested for Impersonating Deputy U.S. Marshals

Description

Greenbelt, MD – The U.S. Marshals Service in the District of Maryland and Capital Area Regional Fugitive Task Force partnered with the U.S. Postal Inspection Service and Maryland State Police to arrest Antione William Tuckson, age 37, of Waldorf, Maryland, and Nijea Nicole Rich, age 40, of Lexington Park, Maryland, on May 20, 2022.

U.S. Marshals Ask Public's Help in Locating Austin Homicide Suspect Sought in Cyclist's Murder

Description

Austin, TX – The U.S. Marshals Lone Star Fugitive Task Force is assisting with the fugitive investigation of an Austin woman wanted for a homicide that occurred May 11 in the 1700 block of Maple Avenue.

U.S. Marshals Alert Public of Scam Phone Calls

Description

Toledo, OH – The U.S. Marshals are alerting the public of a current imposter scam involving individuals claiming to be U.S. Marshal Peter Elliott. Scammers have been calling victims to explain they missed court dates, have outstanding warrants, or failed to appear after being served with subpoenas. No such subpoenas were ever served, and the victims were not named in any court case. The scammers even have a recording saying the caller has reached the Federal District Courts and can be connected to the U.S. Marshals.

2 Juveniles Missing From Akron Recovered in Miami, Florida

Description

Akron, OH – Earlier today members of the U.S. Marshals Service in Miami, Florida recovered two missing juveniles from Akron, Ohio.

On May 3, 2022, the Summit County Juvenile Court ordered two children, ages 8 and 12, removed from the custody of their mother due to serious mental health issues and concern for the children's safety.

U.S. Marshals Add Man Wanted in Murder of 6-Week-Old Baby to 15 Most Wanted Fugitives List

Description

Washington, DC – The U.S. Marshals added Anthony Ojeda, aka Erik Jonathan Donas-Ojeda, 40, to the agency's 15 Most Wanted fugitives list, in connection with an infant's murder in 2019.

U.S. Marshals Fugitive Task Arrests Homicide Fugitive in York

Description

Harrisburg, PA – Today, United States Marshal Martin J. Pane announced the arrest of Christian Galarza-Rodriguez, a 37-year-old York Man.

On October 3, 2021, at about 5:35 p.m., the York City Police Department investigated a shooting in the 200 block of East Poplar Street. As a result of their investigation detectives obtained an arrest warrant charging Galarza-Rodriguez with Criminal Homicide. Attempts to find him were unsuccessful and the U.S. Marshals Service (USMS) Fugitive Task Force was asked to apprehend him.

Fugitive for Murder Near Widener University Caught by U.S. Marshals

Description

Philadelphia, PA – Members of the U.S. Marshal's Fugitive Task Force arrested Jihad Perry, 43, for criminal homicide and Pennsylvania State Parole violations, at approximately 11:30 a.m. in New Castle County Delaware on May 16th. The arrest was made in relation to a shooting which occurred May 5th, 2022, in the 1100 block of Hyatt Street in Chester Pennsylvania. The victim, Robert Dungee, was found a few blocks away on the campus of Widener University.

Fugitive of the Week Homicide Suspect Arrested in New York City

Description

Concord, NH – The United States Marshals Service is very happy to announce the arrest of last week's "Fugitive of the Week," Ricardo Ferguson.

U.S. Marshals Offering $10,000 Reward for Texas Escapee

Description

Waco, TX – The U.S. Marshals are assisting in the manhunt for Texas escapee Gonzalo Lopez, 46, and offering a reward of up to $10,000 for information leading directly to his arrest, in addition to the $5,000 reward being offered by the Texas Department of Criminal Justice.

U.S. Marshals Locate Missing Missouri Children Near Tucson

Description

Tucson, AZ – On March 23, 2022, in Springfield, Missouri, 3 minor children were taken from their home by their non-custodial mother, Brittany Barnes and her wife Ceairah Beverly. The children, aged 10, 9, and 8 were in the custody of the State of Missouri when it is alleged that their birth mother, Barnes and her wife, Beverly took the children without permission during a scheduled visitation. Barnes and Beverly then fled the state of Missouri with the children, in a black Infinity XQ60.

U.S. Marshals Capture Livingston County Murder Suspect

Description

Kansas City, MO – United States Marshal Scott Seeling announced today the arrest of a former Livingston County respiratory therapist wanted for murder.

Jennifer Hall was wanted by the Livingston County Sheriff's Office after being formally charged with Murder (1st degree) in Livingston County on May 4, 2022. The charges stem from the 2002 death of a patient at a hospital in Chillicothe where Hall was employed at the time.

Three Murder Suspects Arrested in One Day by Marshals Task Force

Description

Memphis, TN – Tyreece Miller, U.S. Marshal for the Western District of Tennessee, announces the arrest of Denika Shannon, Anthony McKinney and a male juvenile for First Degree Murder.

On April 7, 2022, Michael Mahan was found shot to death at the 3600 block of Hallbrook, Memphis, Tenn. A warrant was issued for the arrest of a 16-year-old male juvenile for this crime. The fugitive case was adopted by the U.S. Marshals Two Rivers Violent Fugitive Task Force.

U.S. Marshals Seek Terry 'Scooter Man' Jackson, Offer $5,000 Reward

Description

Milwaukee, WI – The U.S. Marshals Great Lakes Regional Fugitive Task Force, in coordination with the Racine Police Department, is offering a $5,000 reward for information leading to the arrest of Terry "Scooter Man" Jackson.

U.S. Marshals Task Forces in Western Tennessee and Eastern Arkansas Capture Double Murder Fugitive

Description

Jackson, TN – Tyreece Miller, U.S. Marshal for the Western District of Tennessee, and Jackson Police Chief Thom Corley announce the arrest of double murder fugitive Jadan Jermaine Bills, 19, of Jackson.

Bills was wanted for Two Counts of First Degree Murder, and Three Counts of Attempted First Degree Murder. These charges stem from an April 29, 2022, shooting where Bills is alleged to have shot inside a vehicle, occupied by five people, on N. Parkway at the U.S. 45 By-pass. Four occupants were hit and two victims, ages 18 and 16, died.

Suspect in 3 Bank Robberies Arrested in Youngstown

Description

Youngstown, OH – This afternoon, members of the Northern Ohio Violent Fugitive Task Force, along with the Federal Bureau of Investigation and the Austintown Police Department, arrested James Verdream, 56. 

Verdream was wanted by the U.S. Marshals for violating the terms of his supervised release. Verdream was released in November 2021 from the Bureau of Prisons after serving time for two bank robberies. 

AL Fugitives Arrested Following Vehicle Crash in Evansville, IN

Description

Birmingham, AL – The Alabama fugitives who have been on the run since April 29 were apprehended Monday in Evansville, Indiana, following a brief vehicle pursuit that ended in a crash.

U.S. Marshals Fugitive Task Force Arrests Mansfield Homicide Suspect in Phoenix

Description

Phoenix, AZ – Members of the Arizona WANTED Violent Offender Task Force arrested Michael Childress, 29. Childress was wanted by the Mansfield Police Department for attempted murder.

Tips Lead to the Arrest of Fugitive of the Week in Maine

Description

Concord, NH – The United States Marshals Service is very pleased to announce the arrest of "Fugitive of the Week," Matthew Stevenson this afternoon.

"Fugitive of the Week," Matthew L. Stevenson, 41 years-of-age, was wanted on arrest warrants issued by both the Manchester and Portsmouth (New Hampshire) Police Departments. The Manchester Police Department was seeking Stevenson on arrest warrants alleging the offense of strong-arm robbery. The Portsmouth Police Department holds a warrant alleging 7 counts of assault, criminal trespass, and breach of bail.

U.S. Marshals and Local Partners Receive Attorney General's Award

Description

Cleveland, OH – United States Marshal Peter Elliott is pleased to announce that members of the U.S. Marshals Service in Northern Ohio and their law enforcement and community partners are recipients of the 69th Annual Attorney General's Award. These are the highest awards presented by the Attorney General in recognition of the outstanding contributions of employees throughout the Department of Justice.

U.S. Marshals Recover Kidnapped Child

Description

Cheyenne WY – U.S. Marshals from the District of Wyoming and members of the Gillette Police Department this afternoon recovered a child kidnapped from Alaska earlier this spring. 

The recovery follows a previous arrest of the non-custodial mother in Gillette. The child unfortunately was not located at the time of the arrest. 

Autumn Wilson, of Alaska, was arrested April 19 on charges of custodial interference and kidnapping. Wilson was turned over to the Campbell County Sheriff's Office pending extradition to Alaska.