News Release
The U.S. Marshals serves as the enforcement arm of the federal courts and is involved in virtually every federal law enforcement initiative.
Below are the news releases shared across the U.S. Marshals Service's 94 districts informing the public of the day-to-day activities ranging from fugitive arrests, asset forfeitures, prisoner operations, judicial security measures as well as highlighting individual achievements and success stories within the agency.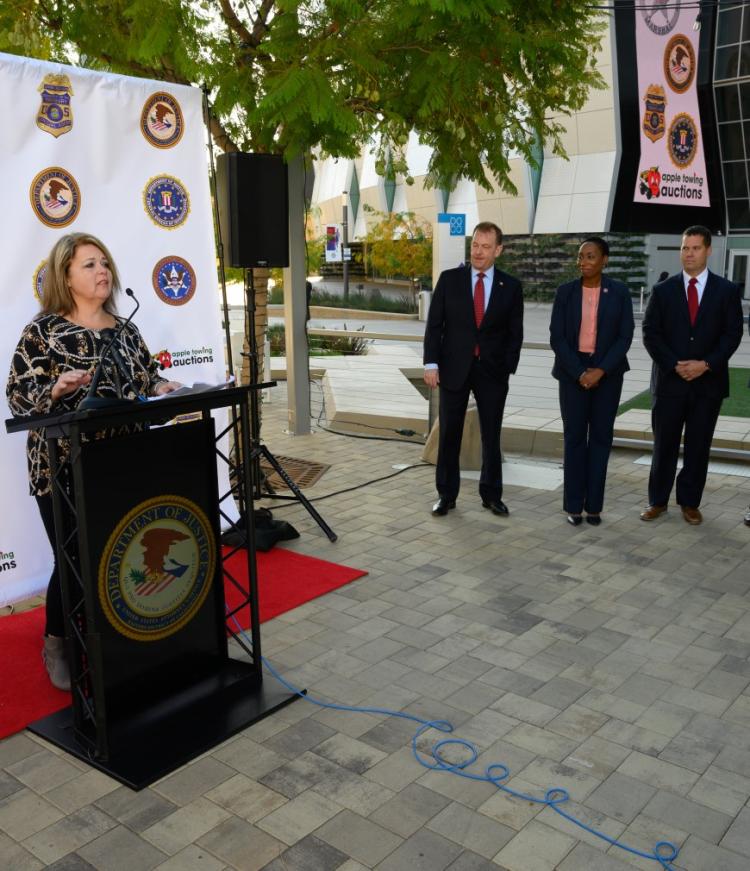 U.S. Marshals Parental Abduction Investigation Subject of 'Unsolved Mysteries' This Month

Description

New Orleans, LA – Since early 2020 the U.S. Marshals Service Eastern District of Louisiana New Orleans Task Force, due to its robust Missing Child Unit, has been assisting in the investigation of a 2017 parental kidnaping case, but efforts to locate the mother and her son in several states have been unsuccessful.

Apprehended Most Wanted Fugitive Opens Fire on U.S. Marshals Service Task Force

Description

Guaynabo, Puerto Rico – Jerome Guadalupe, a most wanted fugitive, was apprehended by U.S. Marshals from the District of Puerto Rico Monday in the Guaynabo municipality.

U.S. Marshals Announce Results of 'Operation Chicago Shield'

Description

Chicago, IL – Combined efforts of the U.S. Marshals Service, the Chicago Police Department, and the Illinois State Police sent a strong message to everyone in Chicagoland: Law enforcement is working with community members to put a shield between the innocent and those who want to prey on the innocent.

U.S. Marshals in Florida Looking for Fugitive Wanted on Firearms, Assault Charges

Description

Fort Myers, FL - The U.S. Marshals Service is seeking information on the location of a Florida man wanted for possession of a firearm, aggravated assault on law enforcement, and a federal probation violation and offering up to $10,000 as reward for information leading to his arrest. 

U.S. Marshals Task Force Arrests FL Fugitive Tennis Coach Who Impregnated 16-Year-Old Student Then Fled to MA

Description

Orlando, FL – After 15 years, a Florida man accused of impregnating a minor has been taken into custody in Massachusetts.  

U.S. Marshals See Another Spike in Scam Phone Calls in the Northern Ohio Area

Breckenridge Man Wanted in 2019 Death of Roommate Turns Himself in to U.S. Marshals in Connecticut

Description

Denver, CO – After nearly nine months of being on the run, and nearly three years since the night of November 6, 2019, Miles Fernando Tovar is in custody. 

U.S. Marshals to Fugitive: Happy 50th Birthday! Now, turn yourself in!

Description

Boise, ID – The U.S. Marshals in Idaho are wishing a Garden Valley man, who is also a fugitive noncompliant sex offender, a happy 50th birthday and offering a $2,500 reward for information leading to his arrest.

Suspect Arrested in Death of 4-Month-Old Baby

Description

Canton, OH – Late yesterday evening, members of the Northern Ohio Violent Fugitive Task Force (NOVFTF) arrested Javion Milan, 24. Milan was wanted for murder, felonious assault, and endangering children.

U.S. Marshals Team with Award Winning Producer on New True Crime Podcast

Description

Washington, DC - A new true crime podcast is set to premiere on October 24, 2022 on all major platforms. U.S. Marshals True Crime Podcast will include stories from deputy U.S. marshals and others who have been thrown into extraordinary situations.

North Mississippi Man Wanted for Federal Charge and Alleged Sex Crime Captured by U.S. Marshals in McNairy County in West Tennessee

Description

Jackson, TN – On October 19, 2022, Robert Roy Thompson, 35, of Corinth, MS, was captured by the U.S. Marshals Service on a federal violation warrant and a state warrant for a sex crime against a child out of Mississippi. Tyreece Miller, U.S. Marshal for the Western District of Tennessee, announced today.

U.S. Marshals Offering $5000 Cash Reward for Teen Wanted in Connection to Roxborough Shooting

Description

Philadelphia, PA — The U.S. Marshals Eastern Pennsylvania Violent Crime Fugitive Task Force is seeking the public's assistance in apprehending Dayron Burney-Thorn.

U.S. Marshals Fugitive of the Week Surrenders

Description

Concord, NH - The U.S. Marshals Service – New Hampshire Joint Fugitive Task Force is very pleased to announce that the "Fugitive of the Week" for October 12, 2022, David Scott Grose, was arrested in Canaan on Wednesday.

U.S. Marshals in Maine Arrest 82 Violent Fugitives as Part of the National Violence Reduction Operation

Description

Portland, ME – The U.S. Marshals Service's Maine Violent Offender Task Force (MVOTF) announces the conclusion of a six-month long Department of Justice initiative aimed at combating violent crime in cities and towns across the District of Maine.

U.S. Marshals Alert Public to Threatening Phone Scam

Description

Concord, NH - Enoch "Nick" Willard, U.S. Marshal for the District of New Hampshire, wants the public to know that he will never call you directly regarding court matters, and he is angered at the imposter that is shamefully targeting innocent civilians in this manner.

Man Wanted for 2020 Killing of Two Brothers in Cleveland Arrested in Houston

Description

Houston, TX – Early this afternoon, members of the Gulf Coast Violent Offenders and Fugitive Task Force arrested David Spivey, 23. Spivey was wanted by the Cleveland Division of Police for two counts of aggravated murder.

U.S. Marshals Arrest DWI Murder Suspect

Description

Springfield, MO – U.S. Marshals-Midwest Violent Fugitive Task Force arrested Donald Pierce Jr. in Springfield on Thursday morning. Pierce was charged with murder for a deadly DWI crash in October 2021.

U.S. Marshals Apprehend Fugitive Wanted for Attempted Murder

Description

Martinsburg, WV – The U.S. Marshals today arrested a man wanted for attempted murder.

Christian Callahan, 23, was arrested on an outstanding warrant for attempted first degree murder and conspiracy stemming from Feb. 17 shooting incident in the 500 block of Winchester Avenue.

U.S. Marshals, FBI Urge Public: Report Phone Scams

U.S. Marshals Service 'Operation Rodeo' Leads to 65 Arrests Including 33 Suspected Gang Members in Southern New Jersey and Around the Nation

Description

Camden, NJ – The U.S. Marshals Service has conducted a high-impact fugitive apprehension initiative focusing on some of the most violent offenders throughout the southern counties of New Jersey.