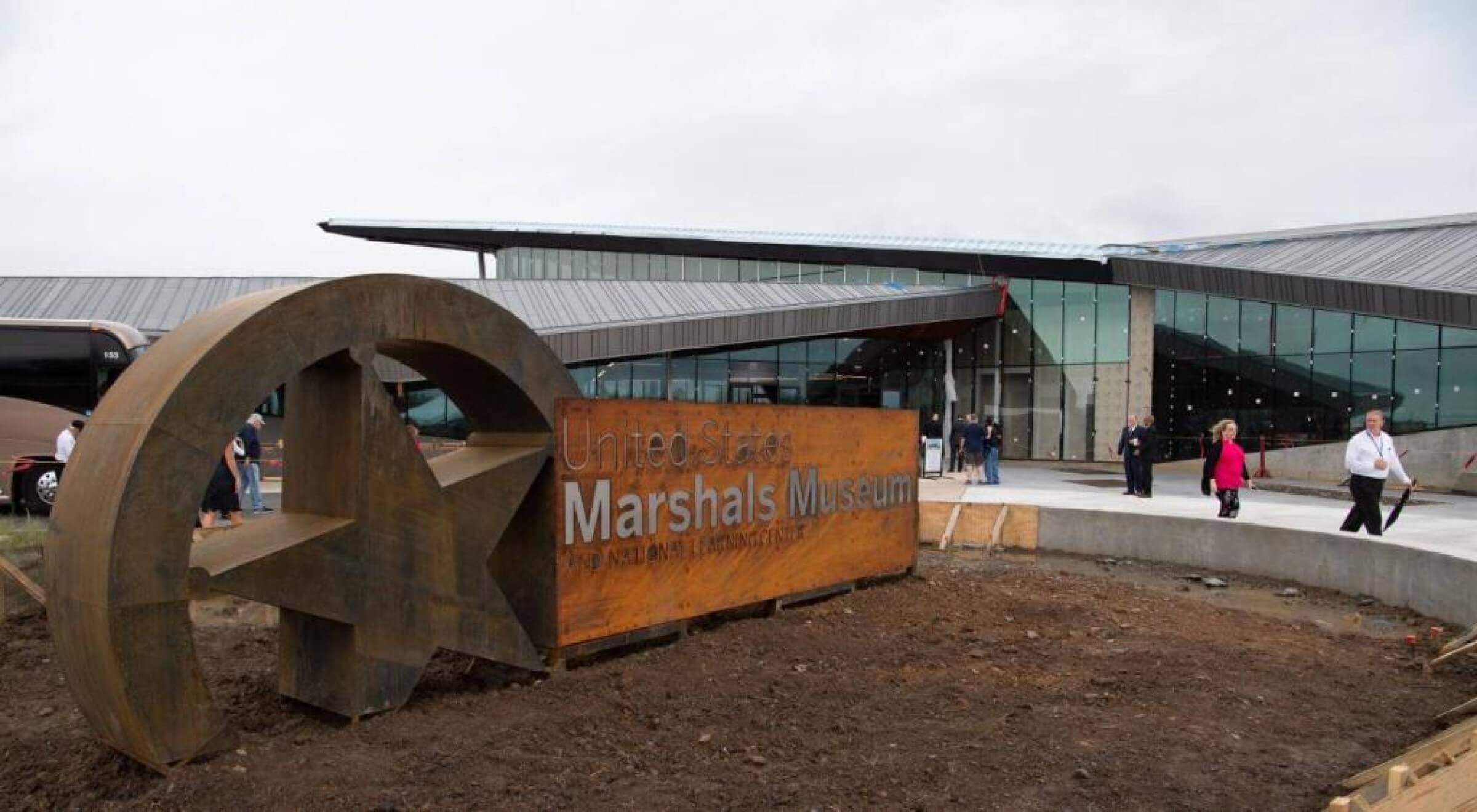 National U.S. Marshals Museum
Description
Fort Smith, Arkansas, was selected as the host city for the the U.S. Marshals Service's new museum. Former Director John F. Clark made the announcement on January 4, 2007, after receiving recommendations from a 10-person museum committee that studied the issue for two years. An active museum board included three members of Agency personnel from 2007 to the present day.
The United States Marshals Museum (USMM) opened in Fort Smith, Arkansas, on July 1, 2023. The star-shaped, iconic structure is in a scene setting along the Arkansas River, where many deputies in the Old West crossed and forded. The wide-ranging exhibits are divided into educational sections: "A Changing Nation," "Frontier Marshals," "To Be A Marshal," and "Modern Marshals." Mix of traditional exhibits and interactive technology smoothly flow throughout the experience. The themes all flow from a central hub, "The Campfire," which features four different time-themed deputies telling their accounts of service. The finished 53,000 square-foot museum also contains temporary exhibit space, an atrium, café, gift shop, and offices. Further plans for an educational and archival center are underway.
In determining our long journey to the completion of the USMM, a recounting can show the development.
Prior History
Laramie, Wyoming was the home of the National United States Marshals Museum formerly known as the "America's Star" traveling exhibit, to commemorate its 200-year history, it traveled to 13 different cities in the United States for 2 1/2 years.
When our Bicentennial celebration came to a close in 1991, the United States Marshal Service was looking for a permanent home for the exhibit and other items and artifacts. A committee was formed to explore the possibilities. There were several cities that expressed interested in hosting the museum: Washington D.C., St. Louis, MO, Ft. Smith, AR, and Laramie, WY.
The museum was located in Laramie, Wyoming, in the lower level of the Wyoming Territorial Park's theater.
The museum featured an impressive array of artifacts, some of them dating back over 200 years. One of the more popular displays was "The Gunman: Romance and Reality," which showcased Hollywood's perception of the West through a series of short clips of Western movies. Artifacts from the other displays included a large collection of U.S. Marshal badges, arrest warrants of notorious outlaws and a stunning collection of seized jewelry by the U.S. Marshals.
Click here to see a composite of photographs from our previous exhibit in Wyoming.
As of January 2003, the museum was closed and was placed in storage. The U.S. Marshals Service began the process of finding a new site.
On June 29, 2023, the United States Marshals Museum held a ceremonial ribbon-cutting with Director Ronald L. Davis joining Arkansas officials and major stakeholders. Starting on July 1, the public can see the full experience!
Click here to visit the official U.S. Marshals Museum website.