His Name was William Degan: A Look Back on the 30th Anniversary of Ruby Ridge
Description
By David S. Turk, U.S. Marshals Service Historian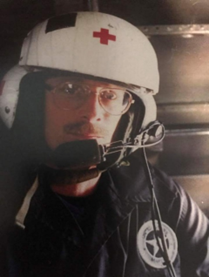 As a historian, I try to keep a personal distance from the events I write about. However, one event that occurred early in my career with the U.S. Marshals makes that difficult. On August 21, 1992, the compromised surveillance of fugitive Randy Weaver on a remote Idaho mountain caused pain and heartache to some of the agency's best-trained deputy U.S. Marshals that remains to this day. One of those deputies, William ("Bill") Francis Degan, died that day. He and the others were members of the Special Operations Group (SOG), founded two decades earlier for fast-moving, complicated, or sensitive missions. Degan was an exceptional law enforcement officer and human being. He overcame obstacles in his career on tasks both big and small, and was an honorable, kind family man and colleague.
In reviewing old papers and photos surrounding the tragic events 30 years ago near Naples, Idaho, in an area commonly called "Ruby Ridge," I was struck by several columns published during the September 1995 Congressional Committee Investigation of the fatal days.
Journalist Thomas Oliphant, who worked in Degan's hometown of Boston, pulled no punches in a September 12, 1995 editorial. "Three years ago, Billy Degan was murdered," he emphatically stated. Oliphant noted the political context of the hearings, but most importantly that the man's memory was lost in the mire of investigation. He concluded with another powerful statement in protest to the continued treatment of the lawman's memory, "Billy Degan's murder produced two acquittals and a standard death benefit for his widow and two kids."1
Degan's widow, Karen Fitzpatrick Degan, watched the 1995 hearings. Although there were numerous mentions of his honorable service, she felt her late husband's entire career was being wrapped in the tragedy of one event on Ruby Ridge. Degan's eldest son, Bill Degan Jr, felt similarly decades later.
For the past 30 years, the Degan family remained publicly silent on the subject of Ruby Ridge. Just like Degan who exhibited quiet control of his situational surroundings, his family, including Karen, their two sons and his two sisters, felt something needed to be said on behalf of posterity. Bill Jr., a deputy U.S. marshal himself, noted that the historical record lacked understanding. The presence of law enforcement on the mountain that day hinged on decisions made by the fugitive. There was no desire for an unnecessary confrontation.3
U.S. Marshals Service personnel were asked to refrain from publicly speaking on Ruby Ridge for several years. Meanwhile, public opinion reflected the limited information from court proceedings and Congressional inquiries. The name "Ruby Ridge" represented a political wilderness for the family and the agency. The subsequent Congressional hearings, helmed by then-Senator Arlen Spector, did little to alleviate the pain brought by the loss of Degan.4
Karen had every right to feel that way. She and Degan dated in high school, married and stayed married for nearly two decades. Their two sons were young when he passed, but she prefers the recollection of Degan as a father figure. In fact, when Degan received the call to join the team for Ruby Ridge mission, he was distraught. He did not want to miss sending his oldest son to college. According to Bill Jr:
The recognition of Degan is often lost in the competing tragedies of the event. The deaths of the fugitive's son during the confrontation, and the subsequent demise of his wife after U.S. Marshals Service personnel departed the mountain carried the lion's share of publicity during the hearings and in the media. Weaver drew a measure of sympathy. The general public never fully understood the lengths law enforcement went to attempting a peaceful surrender for over a year. It is necessary to separate the man from the event.
Degan was not a person tied to a single event. He was a standout human being with a lifetime of experience before his line-of-duty death in 1992. Born on June 21, 1950, in Boston to Bill Sr. and Marie Degan, he had two sisters, Elaine and Sally. He was an adventurous child who adored animals and sports. He attended North Quincy High School and became a gym enthusiast and football star. He was a wide receiver and tight end. He also met his future wife there. Bill Jr. said the couple were known as "the tall athlete and football standout and the cute, young blonde from the large Irish family."6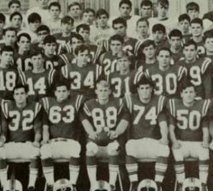 Degan attended the University of New Hampshire on a football scholarship, recruited by then-coach Bill Bowes. He was selected to the All-Yankee Conference Team. One little-known fact was Degan's prowess in the hockey rink, which was abbreviated due to scholarship rules. A sports official at New Hampshire, David O'Connor, remembered the enthusiastic young student. "I never coached him but I knew him as a person for four or five months. I'd see him in the weight room and other places and he always had a smile on his face."7
Degan graduated with a degree in Zoology in 1972, and he joined the U.S. Marine Corps as a 1st Lieutenant in August. His active enlistment ended in August 1975, but he stayed active in the Marine Reserves until his death.
After a stint at the U.S. Army Airborne School in Fort Benning, Georgia, Degan joined the U.S. Marshals Service in January 1978. He graduated first in his class and got assigned to the Eastern District of Michigan. His military service made him a natural to join Special Operations Group (SOG), but graduating the course was difficult due to the intensive physical and tactical demands. In fact, of the 193 deputy U.S. Marshals who applied in 1979, just 54 passed to take the actual course, and only 22 graduated.
Special Operations Group (SOG) candidates received training in hostage and barricade situations, anti-terrorist tactics, and emergency rescue.8 Degan's father served as a Marine Corps aviator in the Pacific Theatre during World War II and as a fighter pilot in the Korean War. Bill Jr said, "My father knew all of the fallen heroes of the Marine Corps and heard many of the stories first-hand from his father. Many years later, I can see how the principles were passed down from the greatest generation."9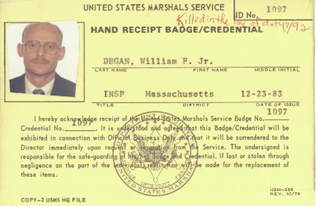 William Degan's 1983 badge receipt.
In March 1979, Bill transferred to the District of Massachusetts. His Special Operations Group (SOG) skills were tested in May 1980. Then-Cuban President Fidel Castro allegedly emptied a number of prisons and mental institutions sent them with a large group of refugees to the Florida coast, popularly known as the "Mariel Boatlift." Several detainment camps were utilized to shelter and provision such a large contingent. Degan and other Special Operations Group (SOG) deputy marshals kept a watchful eye at the encampments to ensure the safety of all the refugees. Degan remained on the detail until October.
The operation sharpened his leadership skills, and Degan became a staff instructor for Special Operations Group (SOG) courses. In July 1981, he promoted to Task Force Commander, and two years later became a Senior Special Operations Group (SOG) Inspector. In last 1985, he coordinated the fugitive arrests during "Operation Flagship," the historic USMS sting operation inside the Washington Convention Center filmed by an embedded news organizations and highlighted by documentaries.10
For three days in August 1986, Degan and 54 Special Operations Group (SOG) members secured the federal courthouse in Puerto Rico in order to house and prepare for extradition members of the violent, terrorist group known as Los Macheteros.11 That operation prepared him for his next mission in September 1989, in the aftermath of Hurricane Hugo which passed through the U.S. Virgin Islands. Degan was the Special Operations Group (SOG) task force commander in St. Croix and told an interviewer of the difficulties in staging a rescue mission with significant damage to local infrastructure. On top of that, approximately 200 prisoners escaped from a local jail and some were allegedly armed. He claimed, "It took three days to get transportation. There was no electricity in the downtown area and no phone service for the first full week."13 The presence of Degan and his team was credited with stemming looting in St. Croix, remaining there the next month. In December 1989, Degan received a Director's Special Achievement Award for his leadership in the rescue mission. He also received the Attorney General's Award for Excellence in Law Enforcement in February 1991.
His colleague Art Roderick explained why these honors seemed to gravitate to Degan.
Retired U.S. Marshal Nancy McGillivray remembered Bill Degan as a mentor. She noted his quiet method of inspiring those around him. She recalled he was "gifted with a dry sense of humor, who always took the time to listen and provide valuable feedback."15   
The combination of experience and character are the reasons Degan was selected to take part in Ruby Ridge. The deputies had to conduct surveillance and understand the challenges of the terrain before formulating an arrest plan. This observation was in motion when the Weavers and deputies exchanged gunfire.  
Chief Deputy Thomas Nixon of the District of Massachusetts stated at the time, "He was selected to go up and retrieve vital intelligence on how we would extract the individual from that house. It was about to come to a head. That was the reason for sending him up there."16
The agency dedicated the 37,000-square-foot William F. Degan Jr. Tactical Operations Center at Special Operations Group (SOG) headquarters in Camp Beauregard, Louisiana, March 12, 1993. Then-Director Henry E. Hudson and the Degan family were present. On the first anniversary of his death, a moment of silence was observed and flags were lowered to half-mast at U.S. Marshals Service headquarters and Camp Beauregard. A scholarship fund and annual golf tournament are named in Degan's honor. In 1996, at a White House Rose Garden ceremony, President Bill Clinton signed the Federal Law Enforcement Dependents Act of 1996, which provided for the U.S. Attorney General to allow educational benefits to the dependents of law enforcement personnel who died or were disabled in the line of duty. President Clinton thanked Karen Degan for her efforts in creating the law.17   
On this is the 30th anniversary of Ruby Ridge, I chose to focus on Bill Degan. He remains a hero to our agency and a consummate modern deputy U.S. marshal. To his family, he was the leader who advocated teamwork and preparation.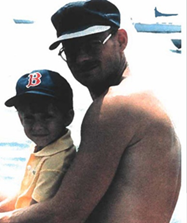 Bill Degan and his son fishing at the docks at Boston Harbor
His son Bill, Jr., summarized the proud father he was.
Well said. We all miss you, Billy.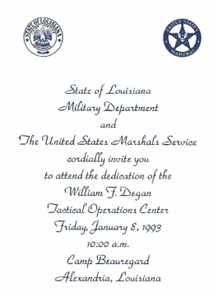 The Author thanks the Degan Family, Arthur Roderick, Nancy McGillivray, and the Special Operations Group for their assistance in writing this article.
---
1 Thomas Oliphant, "Coddling the cop-killers," Boston Globe, September 12, 1995.
2 Statement of Bill Degan, Jr. to Author, July 2022
3 Ibid.
4 Much has been written about the September 1995 Congressional Committee hearings, including the testimony of the surviving deputies. However, public opinion focused on the deaths of Samuel and Vicky Weaver. The U.S. Marshals Service reeled from both the tragedy and the hearings for some time. The successful 2007 arrests of tax protestors Ed and Elaine Brown, who similarly created an armed compound in New Hampshire, generated positive public opinion. Ironically, Randall Weaver visited the Browns during the standoff.
5 Statement of Karen Degan (via Bill Degan, Jr.) to Author, July 2022.
6 Statement of Bill Degan, Jr. to Author, July 2022.
7 "D/MA's Bill Degan was a standout on two fields," Marshals Monitor, September-October 2000. The All-Yankee Conference later became the Atlantic 10 Football Conference.
8 "Special Operations Group (SOG) Adds 22 Deputies To Its Ranks," Marshals Monitor, January-February 1980.
9 Statement of Bill Degan, Jr. to Author, July 2022.
10 The footage, which saw Bill Degan leading the Special Operations Group (SOG) unit for Operation Flagship, was recently highlighted in ESPN's 30 for 30 series in the episode called "Strike Team." In it, Degan gives instruction for the forthcoming arrests.
11 "Special Operations Group (SOG) Moves into Action," The Pentacle, Winter January 1986 (Vol. 6, No. 1), 18-20.
12 Drew Wade and Fran Wermuth, "A Special Operation in the Virgin Islands," The Pentacle, March 1990, 9.
13 Ibid., 10-11.
14 Email, Arthur Roderick to Author, July 1, 2022.
15 Email and Attachment, Retired U.S. Marshal Nancy McGillivray to Author, July 18, 2022.
16 Brian McGrory, "Slain Hub U.S. marshal recalled among best," Boston Globe, August 23, 1992. Chief Nixon knew Bill Degan for 13 years.
17 Program, Dedication Ceremony, The William F. Degan, Jr. Tactical Operations Center, Camp Beauregard, Louisiana, March 12, 1993; "Special Operations Center Opens," Marshals Monitor, January 1993, 1; Ibid., 3; Memorandum, Director Henry E. Hudson to All United States Marshals, Deputy Director, Associate Directors, Assistant Directors, Division Chiefs, and Staff Officers, August 18, 1993; "Tourney attracts nearly 100 golfers," Marshals Monitor, March-April 1996, 4; "U.S. Marshals Service scholarships available," Marshals Monitor, November-December 1996, 5; Kevin O'Hare, "Deputy's widow is catalyst for new legislation," Marshals Monitor, November-December 1996, 5. The Center opened in January 1993, but the Dedication Ceremony took place in March.
18 Statement of Bill Degan, Jr. to Author, July 2022