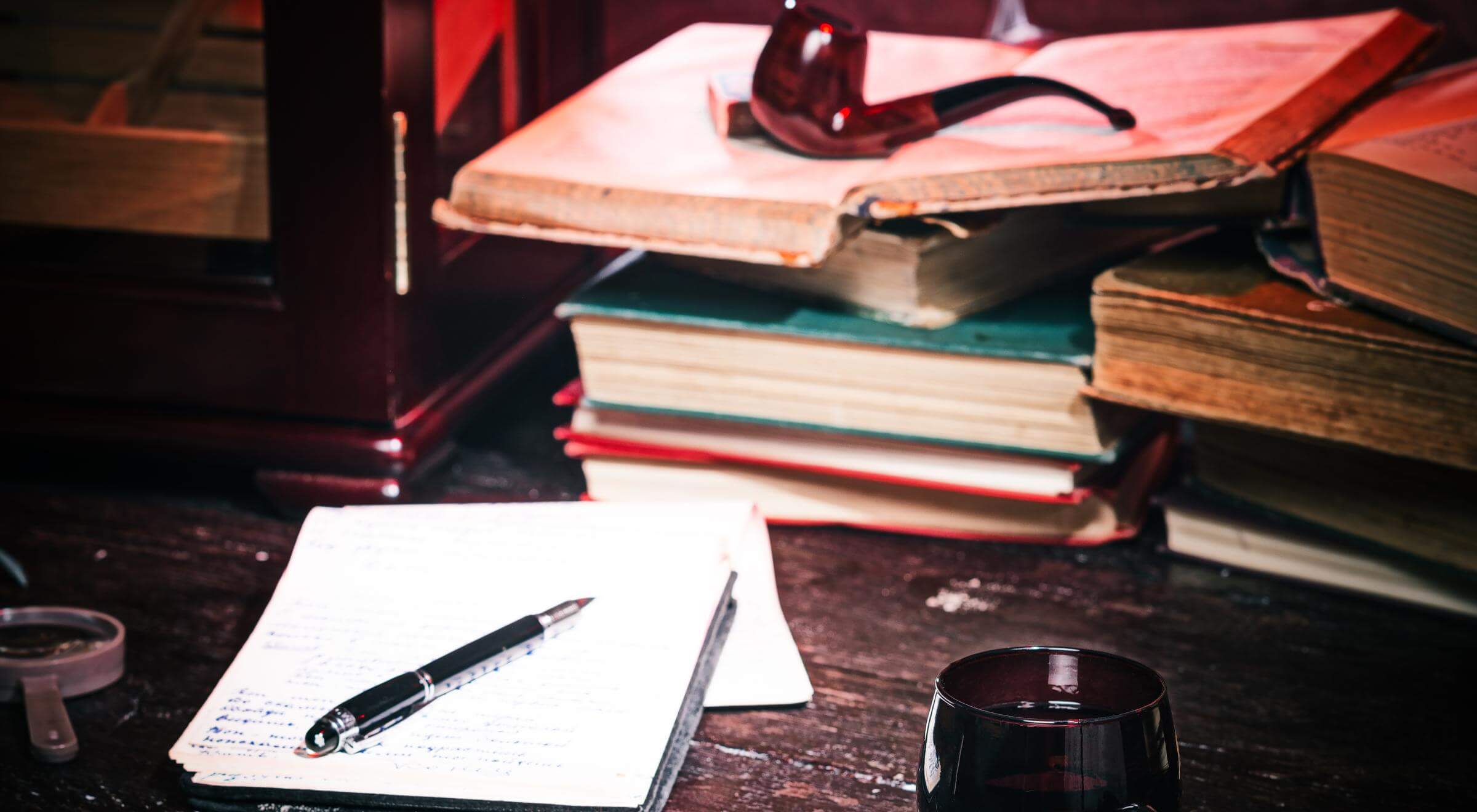 Astronaut Jim Reilly Takes the Star to the Stars
Description
The following article appeared in the U.S. Marshals Service Monitor (September - October 2001)
Honorary U.S. Marshal brings his badge with him on space shuttle mission America's Star has now been in outer space.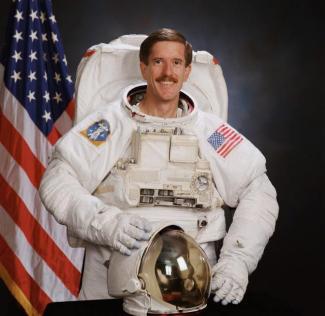 Worn proudly by Jim Reilly, the only person in the universe who can lay claim to being both an astronaut and a U.S. marshal, the badge of the nation's oldest federal law enforcement agency now has yet another chapter in its long, distinguished history.
Making a connection
Reilly has been a National Aeronautics and Space Administration (NASA) astronaut since 1995, but it was a predicament nearly three years afterwards that brought him in contact with the Marshals Service and eventually led to his being named as the seventh-ever honorary U.S. marshal.
While having no reservations whatsoever about orbiting 276 miles above the earth in a space shuttle, the Mesquite, Texas, native utterly dreaded speaking in front of large audiences. And astronauts are always in demand to talk before groups.
"Public speaking was probably my only fear," he said. "It took everything I could do to get up and speak in those situations."
Dr. Bill Wallisch, who has taught public speaking courses to Marshals Service employees, astronauts and many others, was seeking a good venue for Reilly to hone his oratorical skills. He thought of his close friend Duke Smith, Marshals Service associate director at the time. From this link grew the idea to have Reilly speak at several agency management seminars in 1999.
In Palm Springs, California, Colorado Springs, Colorado, and Jacksonville, Florida, Reilly gave presentations on how teamwork in space is the key element to success.
"You get to know the crew better than your family in many ways. In different situations, you learn how they will act and react and you feed off of each other.
"It's a blast."
His presentations were well received. And Reilly said it was surely he who benefited - and more so than by simply enhancing his public speaking skills.
"I enjoyed the heck out of [the seminars]," he said. "The best part was sitting around with the guys and talking with them."
He established a friendship with Smith and others during the seminars that continues to this day. It was Smith's idea to make him an honorary marshal.
"Duke [who was holding a Marshals Service badge] said, 'How about if we send you up on your next mission with one of these?'
"Well, I just figured I'd take someone else's credentials up as a flight memento. But then he said, 'We're going to make you a marshal. '"
In the summer of 2001, Acting Director McKinney flew from headquarters to the Lyndon B. Johnson Space Center in Houston, home to NASA. In front of a backdrop of a replica space shuttle, he presented Reilly with an official badge and swore him in before numerous NASA officials.
Said the former director: "It was indeed an honor to swear in the first person to represent the Marshals Service in space. And it reminded me of this agency's many firsts like when George Washington dispatched the earliest marshals into America's western frontier. "I wonder if Mr. Reilly is the first of a new breed of marshals for the future?"
Reilly was genuinely moved by the ceremony. "It was a pretty spectacular event," Reilly said. "I was so highly impressed. It was one of the biggest honors I have ever received."
A boyhood dream
Reilly, 47, is. one of only 180 NASA astronauts, placing him in rather elite company. Obtaining such a rare position requires a combination of technical skills inner fortitude, persistence '" and, in his case, an unknowing assist from his childhood dentist to boot.
When he was nine years old, he remembers sitting uncomfortably as his teeth were being examined.
"I was in that chair and the dentist was talking about the current NASA mission. He asked me if I'd like to become an astronaut some day and fly in space, and I thought, 'I'd rather be anywhere than right here.'"
And that's where it all began
"As a kid, I'd write to NASA and I'd track all of their missions."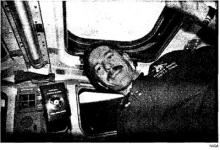 After graduating from high school in 1972 and receiving a U.S. Navy Reserve Officer Training Corps scholarship, he earned a bachelor of science degree in geosciences from the University of Texas-Dallas. He later went on to earn a masters, and then doctorate, in that same discipline.
Upon receiving his bachelor's in 1977, Reilly participated as a research scientist during an expedition to Marie Byrd Land, West Antarctica. Two years later, he began working as an exploration geologist for Santa Fe Minerals, Inc., in Dallas.
Among his many accomplishments during his 17-year career in the oil industry, he developed and applied new imaging technology for industrial applications in various deep water engineering and biological research projects. As part of his work assignments, he spent nearly 22 days in deep submergence vessels.
But when the industry took a downturn in the 1980's, Reilly saw it as a sign to do some soul-searching. He asked himself what it is that he really wanted to do in his life, and before long the answer became crystal clear.
"I picked up an application to become an astronaut and I filed it." And when there was no movement on the part of NASA after his initial submission, he kept at it. He revised his resume and reapplied for the position for the next eight years. Then he hit pay dirt.
"I was busy working and getting my Ph.D.," he said. "But in 1994 they called me for an interview."
Reilly recalls going through the formal interview process amidst other candidates whom he believed to be so much more qualified than himself.
"I was surrounded by military test pilots, technical specialists with years of experience in the space program and scientists with immensely impressive credentials, and I thought, 'What the heck am I doing here?'"
There are only 20 people selected into the astronaut program every two years, but the call came Dec. 7, 1994, that he had been accepted.
"I was probably the most surprised person in all of Dallas that day."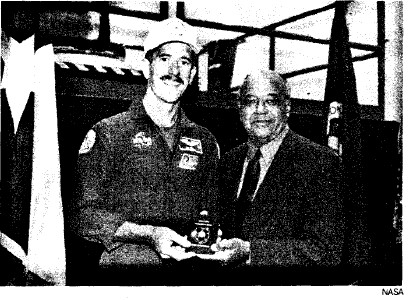 He reported to the Johnson Space Center in March 1995 and underwent a year of training and evaluation. There are two types of astronauts - pilots and mission specialists - and Reilly completed the program as one of the latter. The mission specialists all bring a unique set of technical abilities to the table, while the pilots are all current or former military personnel who have graduated from test pilot schools. But all astronauts are, in essence, pilots. They train in pairs on Northrop Grumman T-38 Talons, which reach top speeds of 812 mph. These twin-engine, high altitude, supersonic jets are widely used as trainers by the U.S. Air Force and member countries of the North Atlantic Treaty Organization. In addition to training stints, NASA astronauts fly them as observers and chasers during space shuttle missions. Yet, the ability to maneuver jets isn't the only thing NASA looks for when selecting people to become astronauts.
"They look for individuals with a broad operational background," Reilly said. "The job requires you to be a jack of all trades because when you're in space with just a limited number of people, you've really got to be able to do a little bit of everything."
Behavior patterns play a big role in determining an applicant's qualifications for the program as well.
"They want someone who doesn't take 'No' for an answer when trying to accomplish something. And they look for emotional stability. It helps to be even-keeled and have a steady personality rather than getting too high or too low."
Reilly has completed two successful space shuttle missions, STS-89 in 1998 and STS-104 in the summer of 2001.
STS-89, aboard Space Shuttle Endeavour, was the eighth NASA mission which docked with the Russian Mir Space Station. Endeavour crew members delivered more than 9,000 pounds of scientific equipment, logistical hardware and water to Mir, which orbits 240 miles above Earth. Members also made an exchange of two American astronauts - dropping off Andy Thomas and picking up David Wolf.
STS-104, aboard Space Shuttle Atlantis, was the mission in which Reilly took his badge and credentials into the heavens. The five person crew of STS-104 conducted joint operations with members of Expedition Two, installing the Joint Airlock on the International Space Station which will allow station crew members to conduct spacewalks from the orbiting laboratory using either Russian or American spacesuits. They also installed a spacewalk work site on the airlock for use by spacewalkers on future missions.
A strong bond
After the completion of the missions, astronaut Jim Reilly is still proud to have represented the Marshals Service during STS-104. And he considers the friendships he has made with Marshals Service employees to be among the highlights of his career. And in the not-so-distant future, he may very well get the chance to further his bond with the Service.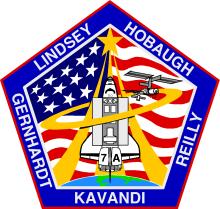 "My oldest son wants to become a deputy marshal; it's been his dream for several years now. So, hopefully one day I'll be able to see him wearing America's Star." Yes, Reilly is truly in a unique situation, being both an astronaut and an honorary U.S. marshal. And though the two appointments may seem to be dissimilar at first glance, after speaking with Marshals Service operational personnel at those management seminars in 1999, he doesn't see a distinct connection as being even a little far- fetched.
"My work as an astronaut really is similar to what the deputy marshals do. Teamwork is the whole drive ... and it's that teamwork that's the best part. And it's the same with the (deputies]. "T0 me, the neatest thing about being an astronaut is the people I work with. "Of course, the view's not bad either."