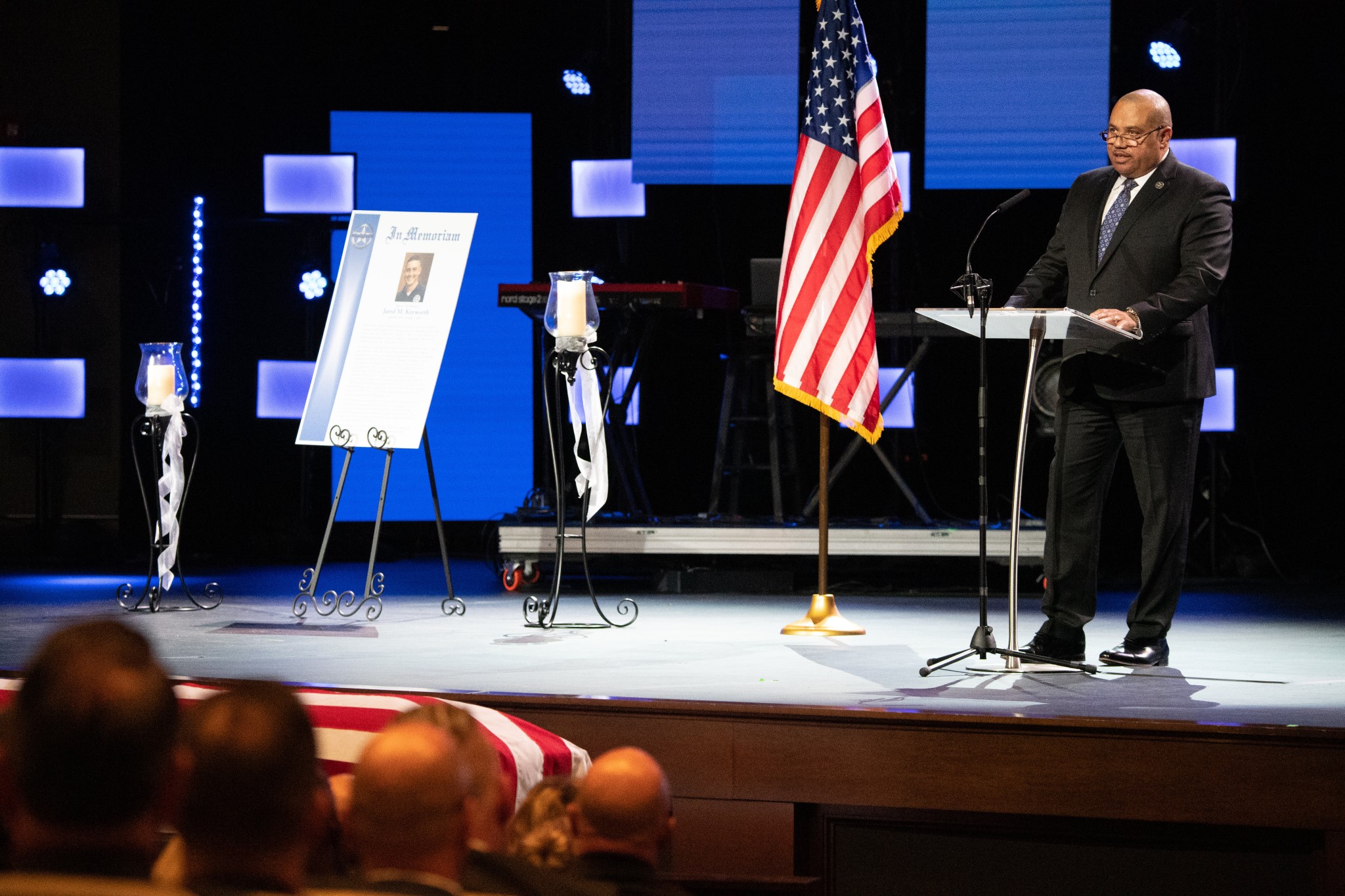 Charles Dudley
Description
Charles Christopher (Chris) Dudley died Friday, November 23, 2012 at his home in Fairfax Station, Virginia. Mr. Dudley was born July 19, 1966, in Blairsville, Georgia, son of Charles and Larkin Dudley. A beloved son, father, and brother, Mr. Dudley grew up in Athens, Georgia and Blacksburg, Virginia with one sister, Drenan Dudley. He was formerly married to Deborah Hulsey Dudley, with whom he had one daughter, the love of his life, Mary Abigail Dudley. He graduated from Blacksburg High School in 1984 and Clemson University with a Bachelor of Science degree in Marketing and Business in 1989.
Mr. Dudley was Deputy Director for the U.S. Marshals Service (USMS) since September 2009. A career U.S. Marshals Service employee, Mr. Dudley joined the agency as a Deputy U.S. Marshal in the Northern District of Georgia in 1990. He has held numerous positions within U.S. Marshals Service, including Chief of Staff and Chief of Domestic Investigations, where he managed the fugitive task force program and the 15 Most Wanted Fugitive program. He was also assigned to the International Investigations Branch; served as Supervisory Deputy U.S. Marshal in the Washington, D.C., field office; and participated in numerous fugitive operations. He is former chair of the Liaison Officers Association and a member of the Federal Law Enforcement Officers Association, the International Association of Chiefs of Police, the U.S. Marshals Service Association, and the National Sheriffs Association.
Chris loved soccer and fly fishing. He was a goalie for Blacksburg High School, goalie for two national collegiate championship teams for Clemson University, and coached soccer in Fairfax County, Virginia. He fished many of the trout streams that are such a part of the western Virginia mountains, an area he loved. He was known far and wide for leadership and humor and was a person of integrity, trusted by colleagues, friends, and neighbors. Of all the joys of his life, spending time with his daughter, Abby, was paramount. He is so loved and is being mourned by many.
Mr. Dudley is survived by his daughter, Mary Abigail Dudley and her mother, Deborah Hulsey Dudley, Fairfax Station, Virginia; parents, Charles and Larkin Dudley, Blacksburg, Virginia; sister, Drenan Dudley, Arlington, Virginia; grandmother, Clara Dudley, Crawford, Georgia; uncle and aunt, Walter and Judy Dudley, Athens, Georgia; cousins, Scott Dudley and Dawn Smith and family; and a myriad of friends, former soccer team members, and the U.S. Marshals Service family.