Wilmer Ocasio-Ibarra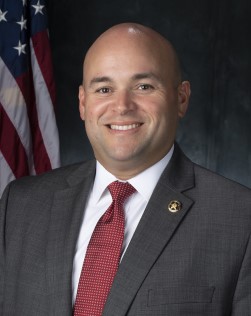 Wilmer Ocasio-Ibarra was sworn in as the United States Marshal of the District of San Juan on September 29, 2019. The District of San Juan is comprised of Court House in Old San Juan, Hato Rey and Ponce.
Wilmer Ocasio-Ibarra has served his native Puerto Rico in various areas of state and local law enforcement. In his earlier years, he served as the Deputy Commissioner of the Guaynabo City Police Department, and as a Staff Sergeant in the Puerto Rico National Guard, State Command 704th Security Forces Squadron.
He has served as Director of External Resources and Federal Grants for the Puerto Rico Police Department, Special Assistant to the Director of the Bureau of Special Investigations for the Puerto Rico Department of Justice, Security Director and Law Enforcement Liaison for the Puerto Rico Department of Family Affairs where he actively worked as a member of the Puerto Rico Crimes Against Children Task Force, and as Sergeant-At-Arms for the Puerto Rico House of Representatives. Additionally, Marshal Ocasio-Ibarra has collaborated in the implementation of public policy, strategies against drugs and illegal weapons and integration programs between state and locals Law Enforcement Departments and Puerto Rico's Department of Public Safety.
Currently Marshal Ocasio-Ibarra is an essential part of the High Intensity Drug Trafficking Areas (HIDTA) Executive Board, he sits in the Facility Security Committee and is part of the Joint Terrorism Task Force. His expertise in the law enforcement arena has facilitated his involvement with the law enforcement community.
Marshal Ocasio-Ibarra is graduated from the Interamerican University of Puerto Rico in a Bachelor's Degree on Criminal Justice with concentration in Criminal Justice, and he complete his Master Degree at the Graduate School of Criminal Justice of the Inter American University Metropolitan Campus.