Tyreece L. Miller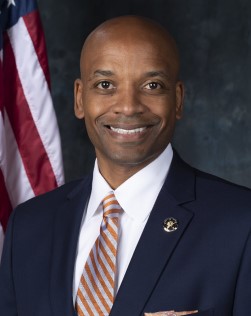 Tyreece L. Miller was sworn in as the United States Marshal for the Western District of Tennessee on July 10, 2020.
Marshal Miller is responsible for the management, administration, and direction of operations throughout the district, which encompasses the 22 western counties of Tennessee with the main office in Memphis and a regional office in Jackson. Marshal Miller's overall responsibilities include protecting the United States Courts, judicial security, protection of federal witnesses and jurors, execution of federal court orders, the custody and movements of federal pre-trial detainees, criminal investigations, and fugitive apprehensions. Marshal Miller oversaw the inception of the Two Rivers Violent Fugitive Task Force in 2021.
Marshal Miller's law enforcement career began in 1997 as a Patrol Officer with the Jackson Police Department. In 2000, he was assigned to the Narcotics Unit and in 2002 transferred to the Criminal Investigation Division as a Violent Crimes Investigator. He achieved a high solvability and conviction rate in homicides and rose through the ranks as a Sergeant and Lieutenant before being promoted to Captain of CID in 2013. After a 2016 promotion, Miller would serve the final four years of a 23-year career as Deputy Chief of Police.
Marshal Miller's service in state government included a 2017 appointment by the Tennessee Supreme Court to the Board of Professional Responsibility, which aids in supervising the ethical conduct of licensed attorneys. In 2019, Miller was appointed by Tennessee Governor Bill Lee to the Council for Judicial Appointments, which provides recommendations to the governor to fill appellate court vacancies. Additionally, in 2019, Miller was appointed to the Governor's Violent Crime Task Force, which made budgetary and legislative recommendations to reduce recidivism and punish violent offenders appropriately and effectively.
Marshal Miller is a Gulf War veteran of the United States Marine Corps and holds a Bachelor of Science in Criminal Justice from Bethel University. He's volunteered with several civic and non-profit organizations. Throughout his career, Miller has received numerous awards for law enforcement and community service.