Thomas Michael O'Connor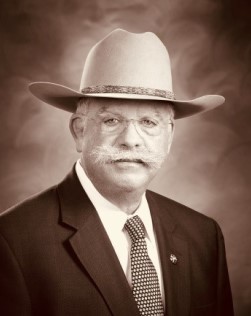 In February 2020, T. Michael O'Connor was sworn in as the U.S. Marshal of the Southern District of Texas.
A fifth-generation South Texas rancher, U.S. Marshal T. Michael O'Connor continues his stewardship in public service and as a businessman.
Marshal O'Connor is a graduate of Texas A&M University 77 and has been involved in law enforcement for over 40 years. In 2005, O'Connor was sworn in as Sheriff of Victoria County, Texas and immediately implemented his theme; "Excellence in Law Enforcement". His main priority is to the residents of Victoria County; to serve and protect. He is currently serving as President of the South Texas Coastal Sheriff's Alliance (STCSA) which includes eighteen (18) counties in the South Texas Coastal Bend, allowing him to be an instrumental voice in addressing common issues among local law enforcement. "Criminal Justice" as well as "Equal Justice" were some of the driving forces to him launching the South Texas Coastal Sheriff's Alliance. O'Connor serves as Chairman of the Board of Law Enforcement Alliance Project (LEAP/LInX) and of Houston High Intensity Drug Trafficking Area, (HIDTA). As a member of the Sheriff's Association of Texas, O'Connor serves on the Jail Advisory, Legislative and Technology Committees. He is actively involved with Texas Association of Counties-Policy Action Group (TAC-PAG) and the National Sheriff's Association, serving on the Education & Training and Governmental Affairs Committees. Marshal O'Connor continues his involvement in Victoria's local civic organizations.
T. Michael O'Connor is a former Vice Chairman of the Texas A&M University System Board of Regents and served as an advisor to the Texas Performance Review, responsible for the review of state agencies in law enforcement. In September 2007, O'Connor was appointed by Governor Rick Perry to the Texas Border Security Council. The council, created by Senate Bill 11, established performance standards, reporting requirements, audit methods and other procedures for Homeland Security Fund allocation and use. In addition, he served as a special appointee of the Governor to the Criminal Justice Task Force for the Comprehensive Review of the Criminal Justice System. He has also been a member of the Project Safe Neighborhood (PSN) Task Force of the Southern District through the United States Department of Justice and the United States Attorney's Office.
T. Michael and LuAnn O'Connor have been married 38 years, and they have two children, Jane O'Connor Crawford and Thomas Fleming O'Connor.