Thomas L. Foster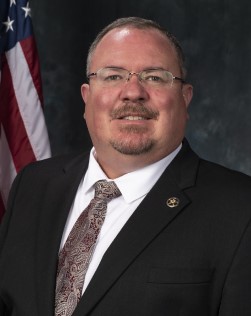 Thomas L. Foster was nominated by President Donald J. Trump and confirmed by the United States Senate on July 2, 2020.
U.S. Marshal Thomas L. Foster began his law enforcement career as Deputy Sheriff for the Salem, Virginia, Sheriff's Office.
Three years later, he was appointed State Trooper with the Virginia State Police. During his long tenure with the State Police, U.S. Marshal Foster served as a Trooper, Special Agent in the Bureau of Criminal Investigation, Drug Enforcement Section, Patrol Sergeant, Internal Affairs Investigator, and Public Information Officer. Ultimately, he was promoted to the rank of Assistant Special Agent in Charge, and later Area Commander. U.S. Marshal Foster's final position with the Virginia State Police was in the General Investigations Section of the Bureau of Criminal Investigation, where he served as Bomb Squad Commander, and supervisor of special agents assigned to federal task force operations.
U.S. Marshal Foster also served as Assistant Chief of Police of the Virginia Tech Police Department where he oversaw patrol and criminal investigative operations, and the emergency communications center. Most recently, U.S. Marshal Foster served as Chief of Police of the Vinton, Virginia, Police Department. During his tenure as Chief of Police, he introduced numerous community policing initiatives which received broad public support and recognition.
During his extensive law enforcement career, U.S. Marshal Foster conducted and oversaw a multitude of criminal investigations, and high-profile law enforcement operations. These include serving on incident command teams for federal, state, and local pharmaceutical diversion investigations, international dignitary visits, and homicide investigations. U.S. Marshal Foster has received numerous awards and recognitions during his career to include the Virginia State Police Superintendent's Award of Merit and the Virginia State Police Highway Safety Achievement Award. U.S. Marshal Foster also co-chaired the Roanoke County Schools Safety and Security Committee where a program he developed became a part of the Governor of Virginia's "4-Safe-VA" initiative.
Additionally, U.S. Marshal Foster served as an adjunct assistant professor of Criminology, Homeland Security, and Law Enforcement and Community Relations for nearly a decade at Virginia Western Community College. He also served as an adjunct instructor of Criminology and Social Problems at Emory & Henry College, and International Criminal Justice at Radford University.
U.S. Marshal Foster holds a Bachelor of Arts Degree in Political Science from Mary Baldwin University, and a Master's Degree in Public Administration from Virginia Tech. He also holds a Post-Baccalaureate Certificate in Criminal Justice Administration from Virginia Commonwealth University, and he is a graduate of the 253rd Session of the FBI National Academy where he was awarded a Graduate Certificate in Criminal Justice Education from the University of Virginia.