Thomas E. Brown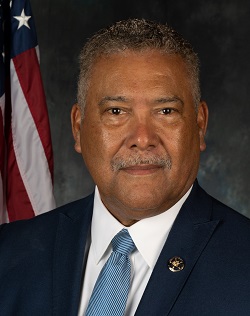 The Honorable Thomas E. Brown was nominated by President Joseph R. Biden Jr., confirmed by the Senate, and appointed on October 17, 2022, to serve as the United States Marshal (USM) for the Northern District of Georgia.
United States Marshal Brown leads the United States Marshals Service activities for the Northern District of Georgia, which includes the federal judiciary protection, federal fugitive apprehension, seized asset management, federal prisoner housing and transportation, and Witness Security Program operation.
United States Marshal Brown began his law enforcement career in 1989 as a County Public Safety Director with the Dekalb County. In this position, he served as management of the County's Police, Fire, Emergency Medical Services, and Animal Control departments, the 911 Communications Center, and Emergency Management. United States Marshal Brown was first elected Dekalb County's Sheriff in 2001, serving four terms in this capacity.
Professionally, United States Marshal Brown introduced the concept of Community-Oriented Policing Services in the Police Department in 1992, achieved the Department's national accreditation with the Commission of Accreditation of Law Enforcement Agencies, and established fire safety programs taught in the school system through the Public Safety Community Relations Unit. The program resulted in large drops in fire-related deaths in residential homes. He also spearheaded many capital improvements, such as renovation of the Public Safety Building, at no expense to taxpayers.
United States Marshal Brown attended DeKalb Community College and Brenau College. He is a graduate of the Fulton County Regional Law Enforcement Academy. USM Brown is also a graduate of the State of Georgia Peace Officer Standards and Training and certified as a Peace Officer. He is also a member of the National Sheriffs Association, National Organization of Black Law Enforcement Executives, and the Alpha Phi Alpha Fraternity Incorporated.