Ted G. Kamatchus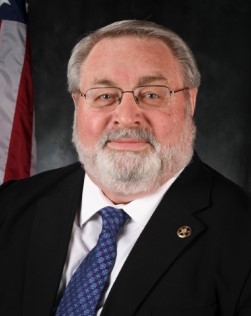 On February 21, 2018, Ted G. Kamatchus was nominated by President Donald J. Trump to serve as U.S. Marshal for the Southern District of Iowa. He was sworn into office as the U.S. Marshal on March 5, 2018.
Prior to his role with the U.S. Marshals Service, Marshal Kamatchus served from December of 1987 to January of 2017 as Sheriff of Marshall County, Iowa.
Marshal Kamatchus began his law enforcement career in 1976. While attending both Mankato State University (Criminal Justice) and Mankato Area Vocational Technical Institute (Sales and Marketing), he worked as a Police Officer for the LeCenter, Waterville and St. Peter Minnesota Police Departments. In 1980 he joined the Marshalltown, Iowa Police Department where he served as an officer and Investigator.
In December of 1987, he was appointed to complete the term of former Sheriff Derald "Bud" Gonzales as Sheriff of Marshall County Iowa. In November of 1988, he was elected to what would be the first of his seven four-year terms in office.
Throughout his career, Marshal Kamatchus served in leadership positions for various organizations at the local, state and federal levels. Some of those positions include as the President of the Fraternal Order of Police, lodge #2 from 1983-1987, and as the Chief Firearms Training Officer from 1985-2016 for the Iowa State Reserve Law Enforcement Officers' Association. He was also part of many Board of Directors, to include the Iowa State Sheriffs and Deputies Association, the National Sheriffs' Association and the International Police Canine Association.
Over his 40-plus year career, Marshal Kamatchus has received multiple "Officer of the Year", "Administrator of the Year" and various other professional commendations as well as being called upon by schools of higher learning, national organizations, U.S. Congressional committees, the Iowa State Legislature, Governors and U.S. Presidents to participate on committees, study groups and as a key-note speaker.