Steven C. Stafford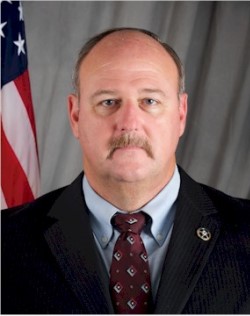 Steven C. Stafford was sworn-in as the United States Marshal for the Southern District of California on October 28, 2010.
Marshal Stafford serves as the first presidentially appointed, career United States Marshal for the Southern District of California. This district is one of the busiest and most complex large districts in the country. It spans more than 141 miles and encompasses the entire California border with Mexico including the San Ysidro Port of Entry, which is the largest and busiest land border crossing in the world. More than 50,000 vehicles pass through its northbound lanes leading to the United States daily and 25,000 pedestrians cross from Mexico each day. As the Marshal, Stafford's responsibilities encompass leading and directing operations, including security and protection of the United States Courts, criminal investigations, fugitive apprehension, execution of federal court orders and other law enforcement activities.
Prior to becoming the Marshal, Stafford was the Chief Deputy U.S. Marshal and Acting U.S. Marshal for the district. Marshal Stafford led the office through challenges that included acute prisoner housing crises and understaffing issues related to multi-year immigration enforcement initiatives.
For over 37 years, Marshal Stafford has served in a variety of investigative and supervisory positions within the Marshals Service. He began his career in 1980 as one of the very first Cooperative Education student trainees for the United States Marshals Service and was assigned to Newark, New Jersey (D/NJ). In 1982, he attended the Federal Law Enforcement Training Centers' (FLETC) Criminal Investigator Training and was initially assigned as a Deputy U.S. Marshal to the Southern District of California.
From 1982 to 1987, he worked as a young Deputy U.S. Marshal in San Diego. In 1987 through 1997, he was a Supervisory Deputy in the District of Massachusetts, primarily handling fugitive enforcement matters and was a Site Supervisor for several USMS multi-agency fugitive operations. Throughout 1995, Mr. Stafford also served as the U.S. Marshals Service Acting Regional Coordinator of the New England Organized Crime Drug Enforcement Task Force (OCDETF). Marshal Stafford was promoted in 1997 and returned to the Southern District of California as the Assistant Chief Deputy U.S. Marshal. A few months later, he found himself serving as the Acting Chief Deputy. In May 2000, he became the Attorney General appointed Acting U.S. Marshal for the next 3 years. He was appointed as Acting U.S. Marshal again in October of 2005 until October of 2008, when he returned to the position of Chief Deputy U.S. Marshal.
Marshal Stafford received his Bachelor of Science degree in Criminal Justice from Northeastern University.