Scott E. Kracl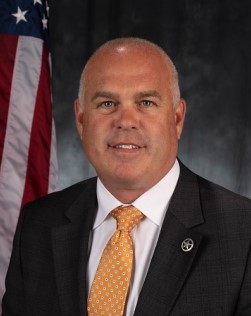 Scott E. Kracl took the oath of office as the United States Marshal for the District of Nebraska on June 11, 2018.
The U.S. Marshal's Service is the nation's oldest federal law enforcement agency. Marshal Kracl is responsible for the leadership and direction of United States Marshals Service operations in the District of Nebraska. His overall responsibilities include protecting the United States Courts and federal judges, enforcement of the Adam Walsh Child Protection and Safety Act, dangerous fugitive apprehension, execution of federal court orders, and other appropriate federal law enforcement activities.
Marshal Kracl began his law enforcement career with the Nebraska State Patrol (NSP) in 1987. He held a number of positions, including: Trooper, Investigator, Sergeant, and Lieutenant of the Troop A Investigative Services Division, a role he held from 2007-2016. During that time, he also served as the commander of the Internet Crimes Against Children Task Force (ICAC). He was actively involved in several task force operations including the FBI's Cyber Task Force, Safe Streets, Drug Enforcement Administration's tactical and enforcement groups as well as the Secret Services Financial Crimes Task Force. Additionally, Marshal Kracl served as the Lieutenant of Executive Protection and Capitol Security detail from 2016 until he retired in 2017, after 29 years of dedicated service to the Nebraska State Patrol.
Marshal Kracl earned his Bachelors of Science in Criminal Justice Administration from Bellevue University, Nebraska. Marshal Kracl was born in Nebraska and is proud to be a lifelong Nebraskan.