Robert Anthony Dixon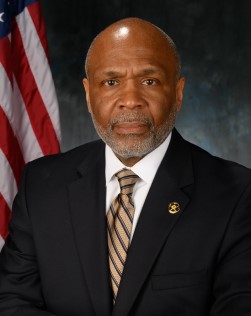 Robert Anthony Dixon, aka Tony, was appointed to serve as the fifth U.S. Marshal for the United States Marshals Service for the Superior Court of the District of Columbia on December 5, 2019.
He began his more than 35 year law enforcement career as a Criminal Investigator with the U.S. Department of Labor (DOL), Office of Labor Management Standards where he investigated multiple criminal violations involving organized labor including, but not limited to, union embezzlements, election fraud, extortion, job-selling, and illegal trusteeships. A proven leader and recognized expert in Labor programs, Tony was relied upon to lead the agency's most complex investigations and to train and mentor younger investigators. After being recruited by and transferring to Department of Labor's Office of Inspector General (OIG), he quickly rose to the rank of Senior Special Agent following an impactful field career investigating labor-racketeering, organized crime, workers compensation and health care fraud, identity theft, illegal immigration, and human trafficking, among other crimes.
In addition to independently conducting hundreds of investigations, he actively participated in numerous task forces, one of which was the Cherry Point (North Carolina) Federal Employees Compensation Act Fraud Task Force that led to nearly 30 million dollars in program cost avoidances.
Tony was promoted to and served as Department of Labor Office of Inspector General's Deputy Director of Program Fraud; Director of Program Fraud; Director of Labor Racketeering; and, ultimately, Director of Investigations. His investigative expertise and management acumen contributed significantly to his legacy of successfully spearheading investigative and policy changes that positively impacted Department of Labor programs and the federal investigative community.
He led the OIG's role as a charter member of the U.S. Department of Justice's International [Transnational] Organized Crime Strategy Group Task Force. The task force marshaled the expertise, tools, and talents of principal U.S. law enforcement organizations in a new and creative endeavor to aggressively investigate and prosecute non-traditional organized crime organizations posing a threat to the U.S. in a post-911 world. As an architect of the Department of Justice's Anti-Trafficking Coordination Team effort, Tony was instrumental in developing and implementing a federal task force strategy that identified, combatted, and prosecuted human trafficking violators throughout the country.
Tony is the recipient of numerous recognitions, among them the Secretary of Labor's Exceptional Service Impact, Exceptional Achievement, and Distinguished Career Service Awards, and the Office of Inspector General Academy's William R. Barton Award. A graduate of Morehouse College, Atlanta, GA and the Federal Executive Institute, Tony is a life member of the National Organization of Black Law Enforcement Executives (NOBLE) - recently serving as president of its Washington Metropolitan Chapter; the International Association of Chiefs of Police (IACP) the Federal Law Enforcement Officers Association (FLEOA) the Alpha Phi Alpha Fraternity, Inc. and until recently, served as an Executive Board member for the Alliance for Safe Traffic Stops.