Peter J. Elliott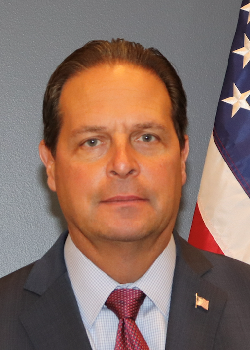 In March 2003, Peter J. Elliott was appointed by President George W. Bush as United States Marshal for the Northern District of Ohio after being unanimously confirmed by the Senate.
He was subsequently retained by Presidents Barack Obama in 2009 and Donald Trump in 2017. Marshal Elliott is the longest serving United States Marshal in the history of Ohio. He is responsible for the management, administration and direction of operations throughout the district, which consists of the northern 40 counties of the state. Marshal Elliott's responsibilities include leading and directing a staff whose core missions include security and protection of the United States Courts, prisoner management, criminal investigations, fugitive apprehension, execution of federal court orders and other law enforcement activities.
As United States Marshal, Elliott has created many new and innovative programs to further the mission of the U.S. Marshals Service, to increase collaboration between federal, state and local agencies and to involve the community in making their streets safer. Most notably, Marshal Elliott created the Northern Ohio Violent Fugitive Task Force which has arrested over 50,000 fugitives since its inception in 2003, and includes over 125 partner agencies and more than 350 law enforcement officers. Marshal Elliott created the Fugitive Safe Surrender program in which law enforcement partners with the local faith-based community and encourages fugitives to surrender at a local place of worship. This highly successful program has been duplicated across the country and has led to the peaceful surrender of over 70,000 fugitives. In 2015, Marshal Elliott created The Cold Case Unit that has tracked down and arrested some of the longest running fugitives in the history of the U.S. Marshals Service. In 2020 he created the Missing Child Unit and established the first ever Fugitive Safe Surrender hotline in Northern Ohio.
Marshal Elliott began his career as a local law enforcement officer working undercover narcotic operations. In 1987, he became a Deputy U.S. Marshal in the Northern District of Ohio, following in the footsteps of his father who was also a Deputy U.S. Marshal. In 1992, he joined the Bureau of Alcohol, Tobacco and Firearms as a Special Agent investigating terrorism, firearms and explosive cases, where he worked until being appointed the U.S. Marshal for the Northern District of Ohio. During his tenure, the Northern District of Ohio has received numerous local, state, and federal awards for their work, including multiple awards from the Attorney General of the United States.