Michael D. Black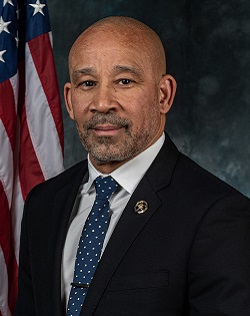 The Honorable Michael D. Black was nominated by President Joseph R. Biden, Jr., confirmed by the United States Senate, and appointed on January 3, 2023, to serve as the United States Marshal (USM) for the Southern District of Ohio.
United States Marshal Black spent 29 years with the Ohio State Highway Patrol before retiring as the Assistant Superintendent and Lieutenant Colonel of Operations in 2018. Previous roles he held included Major and Commander of the Office of Criminal Investigations from 2012 to 2017, as well as Captain and Columbus District Commander from 2011 to 2012. United States Marshal Black served as Director of Protective Services for OhioHealth Corporation from 2021 until his appointment as United States Marshal.
United States Marshal Black has received several awards and recognition throughout his career for his service including a Letter of Recognition from former United States Secret Service Director, Joseph P. Clancy and a Proclamation in Recognition of Service by the Office of Cleveland Mayor, Frank G. Jackson. In addition, in 2018, United States Marshal Black received the Distinguished El Paso Intelligence Center Director's Award, presented by the Motor Vehicle Criminal Interdiction Association, Drug Enforcement Administration, and the National Drug Interdiction Assistance Program.
United States Marshal Black attended the Army War College Leadership Course in 2012, and the Federal Bureau of Investigation National Academy in 1997. He is also a veteran of the United States Marine Corps.