Mark B. Shepherd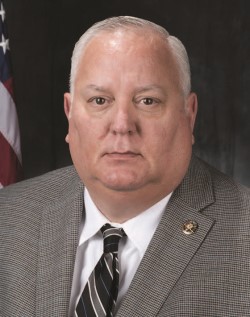 Mark B. Shepherd was appointed as the United States Marshal for the Southern District of Mississippi by President Donald J. Trump on January 15, 2019.
As the United States Marshal, Shepherd leads U.S. Marshals Service activities for the Southern District of Mississippi, including federal judiciary protection, federal fugitive apprehension, seized asset management, federal prisoner housing and transportation, and Witness Security Program operation.
The Southern District of Mississippi is comprised of 45 counties: Adams, Amite, Claiborne, Clarke, Copiah, Covington, Forrest, Franklin, George, Greene, Hancock, Harrison, Hinds, Holmes, Issaquena, Jackson, Jasper, Jefferson, Jefferson Davis, Jones, Kemper, Lamar, Lauderdale, Lawrence, Leake, Lincoln, Madison, Marion, Neshoba, Newton, Noxubee, Pearl River, Perry, Pike, Rankin, Scott, Sharkey, Simpson, Smith, Stone, Walthall, Warren, Wayne, Wilkinson and Yazoo.
Marshal Shepherd began his law enforcement career in 1983 as a patrolman with the McComb Mississippi Police Department. He rose through the ranks of the Department and retired in 2003 as Lieutenant and SWAT Commander. He was elected and served as Pike County Sheriff for three terms from 2004-2015. Marshal Shepherd served as President of Mississippi Sheriff's Association from 2013-2014. In 2007, he was appointed to the Mississippi Crime Stoppers Advisory Council by Governor Haley Barbour and served in that capacity until 2018.
Marshal Shepherd is a lifetime resident of McComb, MS and a graduate of Southwest Mississippi Community College.