Kirk M. Taylor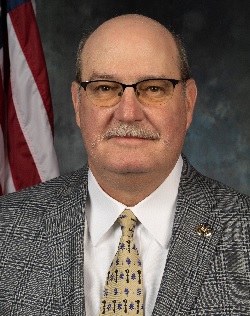 The Honorable Kirk M. Taylor was nominated by President Joseph R. Biden Jr., confirmed by the United States Senate, and appointed on October 18, 2022, to serve as the United States Marshal (USM) for the District of Colorado.
USM Taylor started his many years of service in October 1983, with the United States Navy, stationed with the 2nd Marine Division in Camp Lejeune, North Carolina, and received an Honorable Discharge in April 1989. He started his law enforcement career as a Police Officer with the city of Alamosa Police Department in Colorado, where he excelled as a Patrolman, Narcotics Detective, and an Acting Supervisor until August 1992.
In August 1994, USM Taylor returned to law enforcement and went to work at the 10th Judicial District Attorney's Office in Pueblo, Colorado, as an Investigator. While there, he attended the University of Colorado School of Law and obtained his Juris Doctorate. During his tenure with the District Attorney, USM Taylor was selected and assigned many high-profile cases, and was appointed as a Special Investigator to both the 15th and 12th Judicial Districts in Colorado to investigate complex and politically charged investigations.
In November 2006, USM Taylor was elected as the 37th Sheriff of Pueblo County, Colorado. He served four terms as Sheriff until his selection as USM for the District of Colorado in October 2022. As Sheriff, USM Taylor was selected for numerous statewide boards by 3 different Governors, Peace Officer Standards and Training, Justice Assistance Grant Board, and the Cold Case Task Force. A graduate of the prestigious Federal Bureau of Investigation National Academy Session #237, USM Taylor was also selected by his fellow Sheriffs in the state to represent the County Sheriffs of Colorado as their Legislative Committee Chairperson and served in that capacity for 8 years. He worked tirelessly to promote modern bail and bonding practices, reduce recidivism, and introduced help for those dangerously addicted to opiates.
National Accreditation is the cornerstone of the Pueblo County Sheriff's Office due to USM Taylor's leadership. As a result, Pueblo County Sheriff's Office obtained the coveted Triple Crown Accreditation from the National Sheriff's Association, one of only four agencies in the State of Colorado, and one of only 44 in the United States. He does not take credit for these.