Justin L. Martinez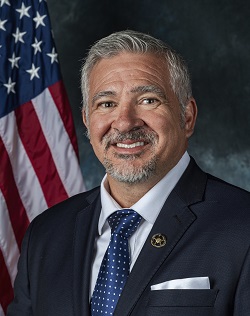 The Honorable Justin L. Martinez was nominated by President Biden on October 14, 2023, confirmed by the United States Senate on June 7, 2023, and sworn-in to serve as the United States Marshal (USM) for the District of Utah (D/UT) on June 20, 2023.
USM Martinez began his law enforcement career in Sandy, Utah, in 1996. In 2005, he was hired at Summit County Sheriff's Office and began rising in rank until being elected Sheriff of Summit County, Utah, in 2014. He was unopposed twice and served as Sheriff for nine years prior to his nomination to USM for D/UT. Over the span of his law enforcement career, USM Martinez successfully held supervisory positions as a Chief Deputy, Bureau Chief, Captain, Division Commander, Patrol Sergeant, SWAT Team Leader, Lead Detective, Honor Guard Commander, and Training Coordinator.
Prior to his law enforcement career, USM Martinez served two tours of duty in the United States Coast Guard. He successfully served as a helicopter air crewman. During his time in the armed services, he was awarded numerous medals and citations before being honorably discharged.
USM Martinez has received several awards and distinctions throughout his career. He was honored as Officer of the Year in 2003, received three life-saving medals, and was the Fraternal Order of Police Utah Sheriff of the Year in 2016. Prior to his USM nomination, USM Martinez was a board member for the University of Utah Business Alumni Association, Summit County Children's Justice Center, Summit County Peace House, and Summit County Domestic Violence Coalition. He is a member of the International Chiefs of Police, National Tactical Officer's Association, and National Sheriff's Association. 
USM Martinez earned an Executive Master of Business Administration from the University of Utah in 2017, and a Bachelor of Science in Emergency Service Management Administration from Utah Valley University in 2010. He is also a graduate of the Federal Bureau of Investigation Executive Command College.