Juan Mattos Jr.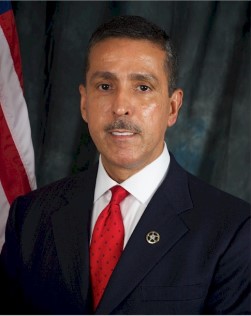 Juan Mattos, Jr. was appointed by President Barack Obama to become the United States Marshal for the District of New Jersey in July, 2011.
As the United States Marshal, Mattos ensures the protection of the Federal Judiciary and the apprehension of fugitives at the federal, state, and local levels. Marshal Mattos manages the operations of the district headquarters and two geographically separated sub-offices and provides oversight of a combination of 30 Deputy U.S. Marshals and 94 Court Security Officers. Additionally, Marshal Mattos provides oversight of the District Asset Forfeiture program which manages the seized assets of federal agencies totaling over 350 physical assets valued at around $40 million.
Marshal Mattos is a career law enforcement officer with 44 years of service to the citizens of New Jersey. Joining the New Jersey State Police in 1974, Marshal Mattos began his career as a general road duty trooper. Rising through the ranks of the New Jersey State Police, Marshal Mattos served in countless operational and administrative positions of increasing responsibility. Marshal Mattos' career with the New Jersey State Police culminated with his promotion to Lieutenant Colonel where he served as both the Deputy Superintendent of Investigations and Deputy Superintendent of Operations, the second highest positions in the New Jersey State Police. Marshal Mattos' responsibilities included managing the activities of almost 700 investigative, scientific and administrative personnel as well as nearly 2,000 uniformed troopers and detectives, who provided general police services to over 70 rural and urban municipalities, and patrolling of all state highways throughout New Jersey. Mr. Mattos also had oversight of over 300 security guards that provided protection to the State Capitol Building and other state owned properties.
Marshal Mattos received a Bachelor of Science degree in Business Administration from New Jersey City University and a Master of Arts degree in Criminal Justice Administration from Monmouth University. He is a graduate of the 203rd session of the FBI National Academy and is a member of the Leadership New Jersey Fellowship Class of 2000. Marshal Mattos was also an Adjunct Professor at Monmouth University from 2004 to 2011, where he taught undergraduate courses in the Criminal Justice Department.