Johnny L. Kuhlman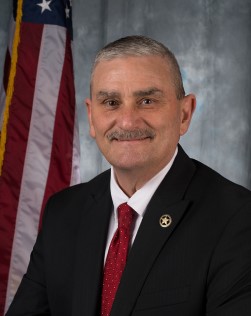 Johnny L. Kuhlman was sworn-in as the United States Marshal for the Western District of Oklahoma on April 2, 2018.
As U.S. Marshal, Kuhlman is responsible for 40 counties of Central and Western Oklahoma, including Oklahoma City. His responsibilities encompass leading and directing operations, including security and protection of the United States Courts, criminal investigations, fugitive apprehension, execution of federal court orders and other law enforcement activities.
Marshal Kuhlman started his law enforcement career working for the Houston Police Department from 1980 to 1983. In 1983, he joined the Oklahoma City Police Department where he rose through the ranks and was promoted to the rank of Deputy Chief in May of 2003. He worked in this capacity until his retirement on April 30, 2018.
Marshal Kuhlman holds an Associate Degree in Police Science Technology from Oklahoma State University (OKC) and a Bachelor of Science in Organizational Leadership from Southern Nazarene University. He is a graduate of the FBI National Academy, the FBI National Executive Institute and the Senior Management Institute for Police.