Eric S. Gartner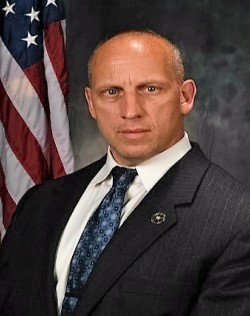 Eric S. Gartner serves as the 51st United States Marshal for the Eastern District of Pennsylvania. He was confirmed by the United States Senate on May 23, 2018, and sworn in on June 12, 2019.
Marshal Gartner leads and directs the U.S. Marshal Service mission encompassing the nine southeastern counties in Pennsylvania, including the greater Philadelphia metropolitan area. His responsibilities encompass the security and protection of the United States Judiciary and Courts, criminal investigations, fugitive apprehension, prisoner operations, the execution of federal court orders, and related law enforcement activities.
Prior to his appointment, Marshal Gartner served for more than 24 years as a Special Agent in the United States Air Force Office of Special Investigations. He held a variety of operational command and staff tours during his career, retiring as a Colonel. He accomplished federal law enforcement and counterintelligence duties on five continents, to include combatant command tours at United States Pacific Command and deployed with United States Central Command. Throughout his career, he and the teams he commanded received multiple Department-level awards. Marshal Gartner's final duty station was at the Defense Intelligence Agency in Washington, D.C. He retired from active duty military service in 2013. After retirement, Marshal Gartner was employed as a law enforcement, counterintelligence, and governance subject matter expert with Noblis. He also served as the Board Vice-President for a non-profit dedicated to homeless veterans in Philadelphia.
Marshal Gartner received a Bachelor of Arts degree in Biology from Earlham College; a Master of Arts degree in International Relations from the University of Delaware; a Master of Arts degree in Military Operational Arts and Science from the Air Command and Staff College; and a Master of Science degree in National Security Strategy as a Distinguished Graduate from the National War College. He is also a graduate of the Department of Defense Executive Leadership Development Program.