David G. Jolley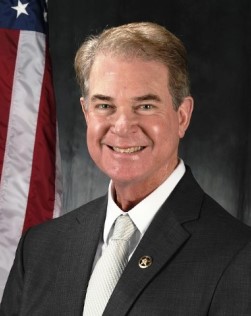 David G. Jolley was appointed U.S. Marshal for the Eastern District of Tennessee by President Donald J. Trump. Marshal Jolley previously served as the U.S. Marshal for the Western District of Tennessee. He was appointed to the Western Tennessee U.S. Marshal position in February 2002 by President George W. Bush and served until April 2009.
Prior to returning to the U.S. Marshals Service, Jolley served as Director of the Tennessee Valley Authority Police. Upon taking this position, he and his family moved to Knoxville, Tennessee. In 2010, Jolley was promoted to Vice President of Police, Security, and Emergency Management at Tennessee Valley Authority. After retiring from Tennessee Valley Authority in October 2014, Jolley was employed as a Knoxville-based Senior Security Consultant for TRC Companies. Based in Lowell, Massachusetts, TRC Companies is a national engineering, consulting and construction management firm providing integrated services to the energy, environmental and infrastructure markets.
Jolley began his law enforcement career as a Special Agent for the Tennessee Bureau of Investigation. He served as a Tennessee Bureau of Investigation agent from 1983 until his appointment as U.S. Marshal in 2002. During his career with Tennessee Bureau of Investigation, he was the case agent on numerous homicide and other violent crime investigations; white-collar and fraud investigations; and narcotic, gang, fugitive, and counter-terrorism investigations. While in the Drug Enforcement Unit, Jolley regularly worked in an undercover capacity. In 1991, Jolley received the U.S. Department of Justice Award for Meritorious Service, and in 1997 received the U.S. Department of Justice Outstanding Service Award. Jolley graduated in Middle Tennessee State University in 1982 with a Bachelor's of Science in Criminal Justice Administration. He is a graduate of the FBI National Academy in Quantico, Virginia, 172nd Session.