Clayton D. Johnson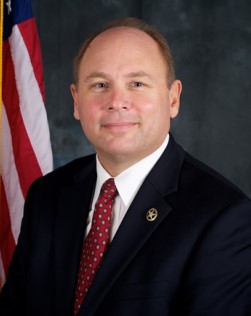 On August 22, 2011, Clayton Johnson was appointed by President Barack Obama to serve as the United States Marshal for the Northern District of Oklahoma.
On September 11, 2017, Marshal Johnson was notified that he was being retained by President Donald J. Trump. Marshal Johnson is responsible for United States Marshals Service operations in the 11 counties of northeastern Oklahoma. In addition, he serves on the Director's Marshals Advisory Council.
In 1982, Marshal Johnson joined the Ponca City, Oklahoma Police Department as a Reserve Officer. In October of 1986, he was hired as a full time police officer for the department. During his police career, he worked in the patrol and detective divisions and promoted through the ranks of the agency. On November 1, 2002, he was appointed Police Chief for the Ponca City Police Department. He served in that position until his retirement in August of 2011.
Marshal Johnson holds a Master of Arts degree in Criminal Justice Management from the University of Central Oklahoma. He is a graduate of the FBI National Academy and he completed the Program for Senior Executives in State and Local Government at Harvard University. Marshal Johnson served as a council member for the Oklahoma Council on Law Enforcement Education and Training (CLEET) from 1999 until 2011 and he served as the Chairman from 2003 to 2009. Marshal Johnson was inducted into the Oklahoma Law Enforcement Hall of Fame in 2012.