Catrina A. Thompson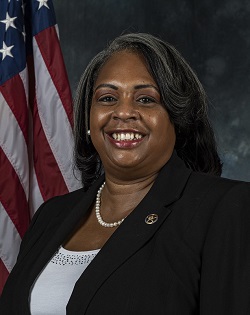 The Honorable Catrina A. Thompson was nominated by President Joseph R. Biden, Jr., confirmed by the United States Senate, and appointed on January 3, 2023, to serve as the United States Marshal (USM) for the Middle District of North Carolina.
United States Marshal Thompson served as the Chief of Police for the Winston-Salem Police Department in North Carolina from 2017 until her appointment as USM. She joined the Department in 1994, and previously served as the Commander of the Investigative Services Bureau, which investigates all major crimes. She currently serves as the first Vice President of the North Carolina Association of Chiefs of Police.
United States Marshal Thompson is a member of the International Association of Chiefs of Police, the National Organization of Black Law Enforcement Executives, and the North Carolina Police Executives Association. In 2022, she received the "Living Your Best Life" Leadership Award from Trellis Supportive Care and the "Women of Vision" Award from the YWCA of Winston-Salem and Forsyth County.
United States Marshal Thompson earned her Master of Public Administration degree from Appalachian State University in 2009, and her Bachelor of Science degree from Wayne State University in 1992.