Brent R. Bunn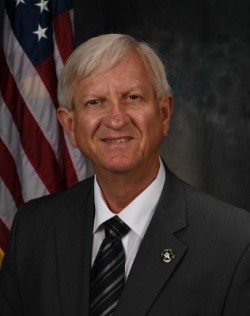 Brent R. Bunn was nominated by President Donald J. Trump to serve as the United States Marshal for the District of Idaho. He was confirmed by the United States Senate May 23, 2019 and sworn in June 21, 2019.
As Marshal, Bunn is responsible for U.S. Marshals Service operations in the District's 44 counties, encompassing over 83,000 square miles of land. He is responsible for overseeing daily operations of the District's three offices, located in Boise, Coeur d'Alene and Pocatello. Additionally, he guides the operation of the Greater Idaho Fugitive Task Force, production of federal prisoners in federal court proceedings, transportation of federal prisoners between detention facilities, provides security to the federal judiciary, and maintains responsibility for the investigation of non-compliant sex offenders and other criminal offenses, among other duties.
Marshal Bunn began his law enforcement career in 1975 as a dispatcher at the Bear Lake County Sheriff's Office. During his early law enforcement career he worked as a patrolman for the City of Montpelier and as a Deputy Sheriff for Bear Lake County. He was elected as Sheriff of Bear Lake County in November 1984 and took office in January 1985. He retired in 2017 after serving 32 years as Sheriff.
Throughout his career Marshal Bunn was active in the Idaho Sheriff's Association and the Idaho Association of Counties. He served as President of both organizations and also served for numerous years on the Board of Directors for each organization. In addition, Marshal Bunn served as the law enforcement representative on the Idaho Counties Risk Management Program (the counties self-insurance pool that provided liability and property loss coverage for the counties, cities, fire districts, special districts and school districts) for 16 years.
Marshal Bunn holds a Bachelor of Science degree in Recreation Education from Brigham Young University.