Gulf Coast Regional Fugitive Task Force
Office Contact
Birmingham
Phone: (205) 876-1200
Description
The Gulf Coast Regional Fugitive Task Force (GCRFTF) became fully operational in July 2006 and operates out of U.S. Marshals Service offices throughout Alabama and Mississippi, with its headquarters office located in Birmingham, Alabama.
The Gulf Coast Regional Fugitive Task Force partners with numerous federal, state, and local law enforcement agencies throughout Alabama and Mississippi continues to recruit other agencies to participate in the task force.
Participating Agencies
Federal Agencies

United States Marshals Service
U.S. Department of Homeland Security-Customs and Border Protection (DHS-CPB)
Department of Defense-U.S. Navy-Naval Criminal Investigative Service (DoD-USN-NCIS)
State and Local Participating Agencies

17th Circuit District Attorney's Office
7th Judicial Major Crimes Unit
Alabama Law Enforcement Agency
Alabama National Guard 
Alabama Pardons and Parole
Alabaster Police Department
Alexander City Police Department
Auburn Police Department
Baldwin County Sheriff's Office
Biloxi Police Department
Birmingham Police Department
Choctaw County Sheriff's Office
Citronelle Police Department 
Coffee County Sheriffs Office
Columbia Police Department 
Covington County Sheriff's Office
Dale County Sheriff's Office
Dothan Police Department
Etowah County Sheriff's Office
Eufaula Police Department
Forrest County Sheriff
Franklin County Sheriffs Office
Grenada County Sheriffs Department
Harrison County Sheriff's Office
Hattiesburg Police Department
Hinds County Sheriff's Office
Hoover Police Department
Houston County Sheriff's Office
Houston/Henry County DA's Office
Huntsville Police Department
Irondale Police Department
Jackson (MS) Police Department
Jackson County (AL) Sheriff's Office
Jackson County (MS) Sheriff's Office
Jefferson County Sheriff's Office
Lanett Police Department
Lauderdale County Sheriff's Office
Lowndes County Sheriff's Office
Madison County (AL) Sheriff's Office
Madison County Sheriff's Office
Madison Police Department
Marshall County Sheriff's Office
Meridian Police Department
Mississippi Attorney General's Office
Mississippi Bureau of Investigation
Mississippi Bureau of Narcotics
Mississippi Department of Corrections
Mississippi Gaming Commission
Mobile County Sheriff's Office
Mobile Police Department
Montgomery County Sheriff's Office
Montgomery Police Department
Northport Police Department
Oxford Police Department
Panola County Sheriff's Office
Pearl Police Department
Perry County Sheriff's Office
Phenix City Police Department
Rankin County Sheriff's Office
Ridgeland Police Department
Shelby County (AL) Sheriff's Office
Smith County Sheriff's Office
Starkville Police Department
Thomasville Police Department 
Troy Police Department
Tupelo Police Department
Tuscaloosa Police Department
University of Alabama Police Department
Vestavia Hills Police Department
Area of Service
Northern District of Alabama
Description
U.S. Marshal: Chester Martin Keely
Courthouse: Hugo L. Black United States Courthouse
Address: 1729 North 5th Avenue, Room 240
Birmingham, AL 35203-2050
Phone: (205) 829-6611
Established on March 03, 1817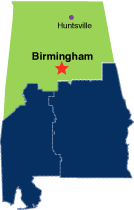 Middle District of Alabama
Description
U.S. Marshal: Jesse Seroyer Jr.
Courthouse: Frank M. Johnson Jr United States Courthouse Complex
Address: 1 Church Street, Suite A-100
Montgomery, AL 36104-4018
Phone:(334) 922-6960
Established on February 06, 1839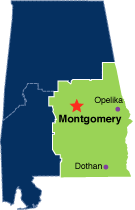 Southern District of Alabama
Description
U.S. Marshal: Mark F. Sloke
Courthouse: John Archibald Campbell United States Courthouse
Address: 1155 St. Joseph Street, #201
Mobile, AL 36602-3606
Phone: (251) 690-2841
Established on July 13, 1818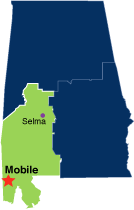 Northern District of Mississippi
Description
U.S. Marshal: Daniel R. McKittrick
Courthouse: United States Courthouse
Address: 911 Jackson Avenue, Suite 234
Oxford, MS 38655-3656
Phone: (662) 513-2300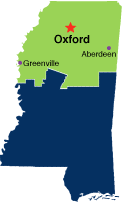 Southern District of Mississippi
Description
U.S. Marshal: Mark B. Shepherd
Courthouse: Thad Cochran United States Courthouse
Address: 501 East Court Street, Suite 1.150
Jackson, MS 39201-5038
Phone: (601) 608-6800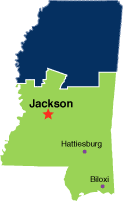 The policies and procedures of the various U.S. Marshals Service District Offices found on this website may vary depending on local rules, local needs, and legal and policy interpretations. These policies and procedures, and any variations among District Offices, are not intended to, do not, and may not be relied upon to create any rights, substantive or procedural, enforceable at law by any party or person in any matter civil or criminal. Nor are any limitations thereby placed on otherwise lawful U.S. Marshals Service prerogatives.