U.S. Marshals Working With El Paso PD to Locate Murder Suspect With Ties to Gang, Miami & Boston Areas
El Paso, TX - The U.S. Marshals Lone Star Fugitive Task Force - El Paso Division is working with El Paso police to locate a man wanted on a warrant for murder stemming from an aggravated assault in February.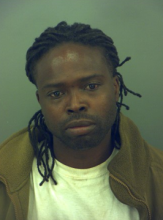 Aaron Durnell Williams, 43, is suspected of stabbing an individual during an argument on February 2, 2023, in the area of Magoffin and Noble. El Paso police officers responding to a report of an aggravated assault learned the victim, suffering from multiple stab wounds, had been taken to the Las Palmas Medical Center and rushed into emergency surgery but succumbed to his injuries.
Williams, aka Jesus Rivera, is a Black male, standing 5 feet 9 inches tall and weighing 160 pounds. He has black hair and brown eyes and a tattoo on his left shoulder blade that reads "704 Thug Life."
In addition to El Paso, Williams has ties to Houston; Miami and Fort Lauderdale, Florida; and Lawrence and Boston, Massachusetts. He is fluent in Spanish.  
Anyone with information is asked to contact Crime Stoppers of El Paso at (915) 566-8477. Tips may also be submitted via the USMS Tips app.
The U.S. Marshals have a long history of providing assistance and expertise to other law enforcement agencies in support of fugitive investigations. The primary focus of the Lone Star Fugitive Task Force is the investigation and apprehension of violent offenders on the federal, state and local level.
Additional information about the U.S. Marshals Service can be found at https://www.usmarshals.gov.
####
America's First Federal Law Enforcement Agency