U.S. Marshals Service and Metropolitan Police Department Seek Murder Suspect in DC
Subtitle
$10K reward offered for info leading to arrest
This is a place holder for subtitle.
Brian Kim, Deputy U.S. Marshal
Capital Area Regional Fugitive Task Force
Washington – The U.S. Marshals-led Capital Area Regional Fugitive Task Force, along with the Metropolitan Police Department, is asking for the public's assistance in locating a man wanted in connection to a murder investigation.
Dreaun Young, 18, is wanted on a D.C. Superior Court arrest warrant for second-degree murder while armed and is suspected of killing Michael Brittingham, 26, who was found deceased Aug. 6, 2020, after police responded to a report of gunshots at a residence in the 600 block of 46th Place SE.
The U.S. Marshals are offering a $10,000 reward for information leading to his arrest.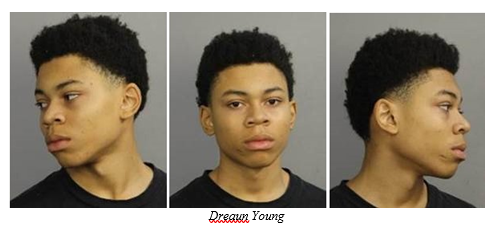 This case remains under investigation. The Metropolitan Police Department currently offers a reward of up to $25,000 to anyone who provides information which leads to the arrest and conviction of the person or persons wanted for any homicide committed in the District of Columbia. Anyone with information about this case is asked to call Metropolitan Police Department at 202-727-9099. Additionally, anonymous information may be submitted to the Metropolitan Police Department TEXT TIP LINE by sending a text message to 50411. Tips may also be submitted directly to the Marshals using the USMS Tips app.
The mission of the Capital Area Regional Fugitive Force is to locate and apprehend the most violent and dangerous fugitives throughout the Washington metropolitan area. With offices in Washington, Virginia, and Maryland, the Capital Area Regional Fugitive Task Force has developed, and will continue to develop, relationships with numerous federal, state, and local law enforcement agencies in order to help ensure the safety of the citizens of our nation's capital and surrounding areas." 
Additional information about the U.S. Marshals Service can be found at https://www.usmarshals.gov.
####
America's First Federal Law Enforcement Agency