U.S. Marshals Selling Items From Fyre Festival Fraud Scheme
Subtitle
Items include souvenir clothing, tokens, wristbands
This is a place holder for subtitle.
U.S. Marshals Headquarters
Office of Public Affairs e-mail: us.marshals@usdoj.gov
Washington, DC – The U.S. Marshals are holding an online auction starting July 30 for 126 lots of minor assets from the fraudulent Fyre Festival planned by William "Billy" McFarland that was scheduled to occur in the Bahamas in 2017.
The auction is being held by U.S. Marshals auction vendor Gaston and Sheehan on the web at www.txauction.com. Registration and bidding are currently underway, with the auction ending Aug. 13.
"This Fyre Festival-branded clothing and other items that were seized from Billy McFarland were originally intended to be sold at the Fyre Festival itself but were kept by McFarland, with the intent to sell the items and use the funds to commit further criminal acts while he was on pre-trial release," said U.S. Marshal Ralph Sozio of the Southern District of New York. "The proceeds from the sale of these items, all traceable to McFarland's $26 million fraud, will go toward the victims of his crimes."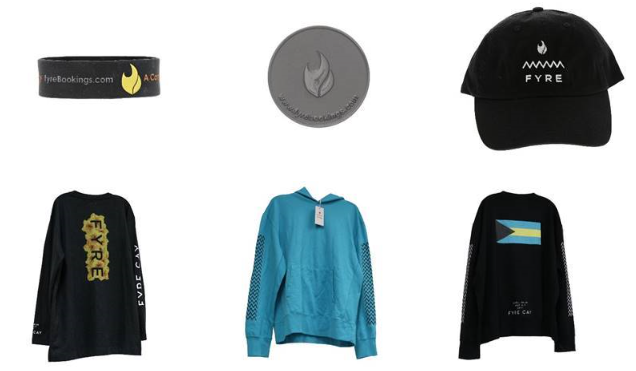 McFarland engaged in a scheme to defraud over 80 investors in Fyre Media Inc. and Fyre Festival LLC, as well as a Fyre Festival ticket vendor, causing more than $26 million in losses.
The Federal Bureau of Prisons inmate locator shows McFarland currently in prison with a release date in 2023.
To register and for more information/additional photos:
Federal criminal case information:
The Department of Justice Asset Forfeiture Program is a key component of the federal government's law enforcement efforts to combat major criminal activity by disrupting and dismantling illegal enterprises, depriving criminals of the proceeds of illegal activity, deterring crime and restoring property to victims. The U.S. Marshals Service plays a critical role in identifying and evaluating assets that represent the proceeds of crime as well as efficiently managing and selling assets seized and forfeited by Department of Justice.
Additional information about the U.S. Marshals Service can be found at https://www.usmarshals.gov.
####
America's First Federal Law Enforcement Agency