U.S. Marshals Seek Terry 'Scooter Man' Jackson, Offer $5,000 Reward
Robert O'Connor, Judicial Security Inspector
Eastern District of Wisconsin
Green Bay, WI
Milwaukee, WI – The U.S. Marshals Great Lakes Regional Fugitive Task Force, in coordination with the Racine Police Department, is offering a $5,000 reward for information leading to the arrest of Terry "Scooter Man" Jackson. Jackson is 41 years old, 5 foot 9 inches tall, weighs about 200 pounds and has a large distinctive tattoo with scorpion/spider arms and block lettering on his throat. Jackson should be considered armed and dangerous.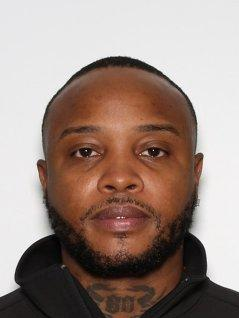 Jackson allegedly shot and killed 30-year-old Brittany Booker of Racine on or about April 24. Jackson is also accused of attacking Booker and another woman with a hammer in February. Jackson has ties to Southeast Wisconsin, Northern Illinois, Northern Indiana, Arizona and Texas.
Information on Jackson may be provided by calling the U.S. Marshals Service Eastern District of Wisconsin at (414) 297-3707, the Racine Police Department at (262) 939-2437, or submit an anonymous tip using USMS Tips.
Additional information about the U.S. Marshals Service can be found at https://www.usmarshals.gov.
####
America's First Federal Law Enforcement Agency