U.S. Marshals Seek Public's Help Finding Escapee Wanted on Multiple Charges, Including Kidnap, Assault
Subtitle
Combined reward up to $20K offered for info leading to capture
This is a place holder for subtitle.
Danielle Shimchick, Deputy U.S. Marshal
Eastern District of Virginia
Update
UPDATE: Naseem Roulack was Apprehended in Springfield, VA on October 25, 2023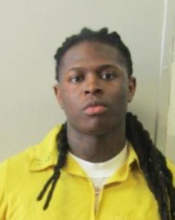 Washington, D.C. – The U.S. Marshals are seeking the public's help in locating a man who escaped the Virginia Department of Corrections in August and is suspected of a Sept. 1 carjacking in Gaithersburg, Maryland.
Naseem Roulack, 21, has been on the run from the U.S. Marshals Service Capital Area Regional Fugitive Task Force since Aug. 12. He is facing kidnapping, armed robbery, armed carjacking, first-degree assault and vehicle theft charges for the Gaithersburg incident.
Roulack was serving a 13-year sentence for charges of aggravated malicious wounding, grand larceny and hit-and-run when he escaped custody while getting medical help at St. Mary's Hospital in Henrico, Virginia.

Roulack is a Black man, standing 5 feet 8 inches and weighing approximately 177 pounds. He has a tattoo on his right cheek that says "Cut Throat," a tattoo that says "RIP ish" on his left arm and a tattoo saying "Faith is Seeing with Your Heart When All Your Eyes See is Darkness" on his right arm.
The U.S. Marshals Service is offering a cash reward of up to $10,000 for information leading to Roulack's arrest. Crime Solvers of Maryland is offering up $10,000. Anyone with information about Roulack's location is urged to contact the U.S. Marshals at 1-877-WANTED2, or tips can be submitted via the U.S. Marshals Tips App.
The mission of the Capital Area Regional Fugitive Force (CARFTF) is to locate and apprehend the most violent and dangerous fugitives throughout the Washington metropolitan area. With offices in Washington, Virginia, and Maryland, the Capital Area Regional Fugitive Force has developed, and will continue to develop, relationships with numerous federal, state, and local law enforcement agencies in order to help ensure the safety of the citizens of our nation's capital and surrounding areas.
Additional information about the U.S. Marshals Service can be found at https://www.usmarshals.gov.
####
America's First Federal Law Enforcement Agency