U.S. Marshals Searching for 2nd Morgan State Shooter
Subtitle
Jovon Williams is now the target of an interstate fugitive investigation
This is a place holder for subtitle.
Al Maresca, Deputy U.S. Marshal
Washington, DC – The U.S. Marshals Service (USMS) is seeking the public's assistance in locating Jovon Terrell Williams, 18, a man wanted for his involvement in a shooting incident that took place Oct. 3. In this case, five people were wounded and had to be transported to the hospital after violence erupted during the homecoming celebration events at Morgan State University.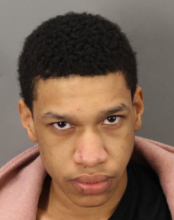 Williams was charged Oct. 11 by the District Court of Maryland for Baltimore City with attempted first-degree murder and other charges stemming from the shooting incident.
On Oct. 12, the U.S. Marshals arrested a 17-year-old juvenile who was charged as a co-defendant in the Morgan State shooting.
The U.S. District Court for the District of Columbia issued an arrest warrant June 15, charging Williams in a guns and drug conspiracy case.  This case was being investigated by the Drug Enforcement Administration; the Bureau of Alcohol, Tobacco, Firearms and Explosives; the USMS and the Internal Revenue Service.  On July 14, the Drug Enforcement Administration referred apprehension authority to the U.S. Marshals Service.
The U.S. Marshals Service is offering a reward of up to $10,000 for information that leads to Williams' arrest. Additionally, Metro Crime Stoppers and ATF are offering a reward of up to $9,000 for tips leading to an arrest and charges filed.
Williams should be considered armed and dangerous. Anyone with information is urged to contact the U.S. Marshals at 1-877-WANTED2 or submit tips via the USMS Tips App. Individuals with time-sensitive information can also contact Deputy U.S. Marshal Maresca directly at (202) 819-5058.
Additional information about the U.S. Marshals Service can be found at https://www.usmarshals.gov.
####
America's First Federal Law Enforcement Agency