U.S. Marshals in PA, NY Working with PSP to Find Dangerous Escapee from Warren County Jail
Subtitle
Up to $9,500 reward available for info leading to arrest
This is a place holder for subtitle.
Philip Cornelious, Chief Deputy U.S. Marshal
Western District of Pennsylvania
**UPDATE: Michael Burham was Apprehended on July 15, 2023**
Pittsburgh, PA - The U.S. Marshals in the Western District of Pennsylvania, along with the Western District of New York, have joined the Pennsylvania State Police (PSP) manhunt for a man who escaped from the Warren County jail late Thursday, July 6, 2023.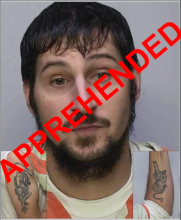 Michael Burham, 34, was being held on arson and burglary charges and was a suspect in a homicide investigation. He was also associated with a prior carjacking and kidnapping of a local couple.
Burham is the prime suspect in the May 11 shooting death of 34-year-old Kala Hodgkin inside her William Street home in Jamestown. He is also alleged to have set fire to another woman's car in Jamestown.
Burham stands 5 feet 10 inches tall and weighs approximately 160 pounds. He has brown hair and brown eyes and a tiger tattoo on his right arm. He should be considered dangerous.
The USMS is offering a reward of up to $7,500 for information leading to Burham's arrest. Warren County Crime Stoppers is offering up to $2,000 reward.
Anyone with information on Burham's location is urged to contact law enforcement. Tips may be submitted by calling (814) 728-3600 or via the USMS Tips App
Other agencies involved in the manhunt include City of Warren police, Warren County Emergency Management Agency (EMA), U.S. Forest Service, U.S. Border Patrol, Warren County Sheriff, Chautauqua County Sheriff, Jamestown Police, Bradford Police, and the Pennsylvania Game Commission.
The U.S. Marshals Service is the nation's first federal law enforcement agency and is the federal government's primary agency for fugitive investigations.
Additional information about the U.S. Marshals Service can be found at https://www.usmarshals.gov.
####
America's First Federal Law Enforcement Agency