U.S. Marshals Offering $10,000 Reward for Texas Escapee
Subtitle
Reward totaling $15,000 for information leading directly to arrest
This is a place holder for subtitle.
Waco, TX – The U.S. Marshals are assisting in the manhunt for Texas escapee Gonzalo Lopez, 46, and offering a reward of up to $10,000 for information leading directly to his arrest, in addition to the $5,000 reward being offered by the Texas Department of Criminal Justice.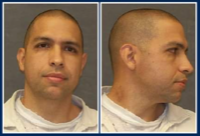 On Thursday, Lopez was on a bus with 15 other inmates and two guards en route to Huntsville from Gatesville, Texas. Lopez managed to free himself from his restraints and use an object to stab the bus driver, Officer Randy Smith. During the struggle, which ended up outside of the bus, Lopez briefly gained control of the Smith's handgun. However, he was unable to remove it from the holster. The second guard, Officer Jimmie Brinegar, was able to shoot out the back tires of the bus. Lopez jumped back into the bus and attempted to drive off. He only made it about a mile before losing control and crashing. He then took off into a nearby field.
Anyone with information is urged to contact the nearest USMS District Office, the U.S. Marshals Service Communications Center at 1-800-336-0102, or submit a tip using USMS Tips.
Lopez is serving a life sentence for capital murder out of Hidalgo County and attempted capital murder out of Webb County. He is considered armed and dangerous.
The U.S. Marshals Service is the federal government's primary agency for fugitive investigations. The Marshals have the broadest arrest authority among federal law enforcement agencies, and provide assistance to state and local agencies in locating and apprehending their most violent fugitives.
 
Additional information about the U.S. Marshals Service can be found at https://www.usmarshals.gov.
####
America's First Federal Law Enforcement Agency