U.S. Marshals Offer Reward up to $10,000 for WV Murder Suspect
Mark Waggamon, Deputy U.S. Marshal
Southern District of West Virginia
Update
**Matthew Jaquez Dauhtery was Apprehended on August 10, 2023 in Baltimore**
Charleston, WV – The U.S. Marshals Southern District of West Virginia CUFFED Task Force is asking for the public's assistance in locating a Charleston man wanted by the U.S. Marshals and Huntington Police Department for a first-degree murder warrant.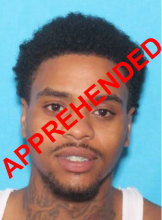 Matthew Jaquez Dauhtery, aka Doobie, 24, along with three other men, is believed to have conspired to murder a Huntington man in November 2022. While the other three men were taken into custody in January, Daughtery remains at large.
The U.S. Marshals Service and Crime Stoppers are offering a combined reward of up to $10,000 for information leading to Daughtery's arrest.
Investigators have learned additional details about Daughtery that might help lead to his location: 
Daughtery has multiple tattoos on his neck, chest, and arms, to include a distinct "M" tattoo on his right arm and a "D" on his left arm, as well as a "WV." On his neck Daughtery has tattoos of a marijuana leaf, lips and smoke.
Daughtery remains involved in criminal activity while on the run. Investigators believe Daughtery may continue to commit crimes in order to aid his evasion from law enforcement by continuing to sell dangerous drugs.
Investigators believe Daughtery remains in close contact with his family and other criminal associates while on the run.
Prior to the murder, Daughtery was attempting to obtain his Commercial Driving License. It is possible he may be trying to use those connections to hide.
Daughtery is a habitual marijuana user and frequently visited "smoke shops" in West Virginia. It is unlikely he has stopped his marijuana use and may continue to frequent those establishments.
Investigators have learned that Daughtery has a pet French Bull Dog named "Chapo" or "Chapos" that is dark in color.
Daughtery has strong connections to the Charleston and Beckley areas, as well as ties in Ohio, Virginia and North Carolina.
On November 30, 2022, the Huntington Police Department responded to a shooting in the 1800 block of 9th Avenue in Huntington and discovered Christopher Johnson, 40, of Huntington with gunshot wounds. Johnson was transported to St. Mary's Medical center where he died from his wounds.
Through the investigation, it has been alleged that Daughtery, along with Malik Hawk, Lawrence Foye and Demarquis Patterson, conspired to murder Johnson.
On Jan. 24, arrest warrants were obtained by the Huntington Police Department for all four men for the first-degree murder charge.
On Jan. 27, Hawk, Foye and Patterson were taken into custody. Since their arrests, Daughtery has been evading apprehension from law enforcement, but law enforcement authorities believe Daughtery is aware he is wanted and is actively evading apprehension.
Daughtery is a Black male, standing 5 feet 5 inches tall and weighing approximately 125 pounds. He has black hair and brown eyes. He should be considered armed and dangerous.
Anyone with information about Daughtery's location is urged to call the USMS Tip Hotline at 1 (877) 926-8332 or the USMS Southern District of West Virginia at (304) 347-5136. Tips can also be submitted online via the USMS Tips App. All tips are kept confidential.
Additional information about the U.S. Marshals Service can be found at https://www.usmarshals.gov.
####
America's First Federal Law Enforcement Agency