U.S. Marshals Offer Cash Reward for Attempted Murder Fugitive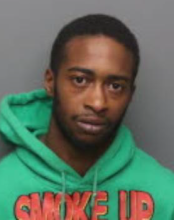 Memphis, TN – The U.S. Marshals Two Rivers Violent Fugitive Task Force based in Memphis, Tennessee is seeking the public's help in apprehending a fugitive.
Randy Darnell Ewing has warrants for his arrest out of Shelby County for Attempted 2nd Degree Murder and Violation of the Sex Offender Registry.
Ewing is also a person of interest in the killing of Tomanuel Benson. Benson was shot to death on August 18, 2023, in Memphis, Tennessee. Ewing is sought for questioning in this matter.
Ewing is known to have ties to the Memphis area, the Henning, Tennessee area, the Dallas, Texas area and points in between. He is considered armed and dangerous and should not be approached.
The U.S. Marshals are offering up to $5,000.00 reward for information that leads to the arrest of Ewing. All information is considered confidential. Anyone with information is encouraged to call (901) 601-1575, or submit a USMS web tip.
The U.S. Marshals Two Rivers Violent Fugitive Task Force is a multi-agency task force within Western Tennessee. The TRVFTF has offices in Memphis and Jackson, and its membership is primarily composed of Deputy U.S. Marshals, Shelby County Sheriff's Deputies, Memphis Police Officers, Fayette County Sheriff's Deputies, Jackson Police Officers, and the Tennessee Department of Correction Special Agents. The primary mission of the Task Force is to arrest violent offenders and sexual predators.
Additional information about the U.S. Marshals Service can be found at https://www.usmarshals.gov.
####
America's First Federal Law Enforcement Agency