U.S. Marshals Offer up to $5,000 Reward for Info Leading to Capture of MS-13 Gang Member Wanted for Arkansas Homicide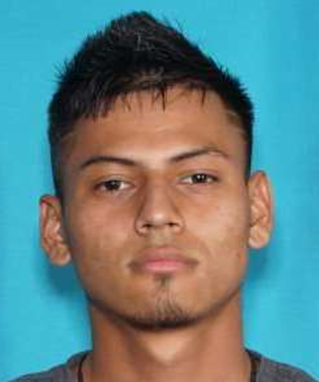 Fayetteville, AR – The U.S. Marshals (USMS) are offering up to $5,000 reward for information leading to the capture of a man wanted by the Springdale Police Department in the shooting death of an Arkansas man following an altercation.
Jose Reyes-Sanchez, 24, along with two other suspects, is alleged to have shot the victim 10 times before fleeing. The two other suspects were taken into custody after they fled to Missouri.
Reyes-Sanchez, who is from El Salvador and is affiliated with MS-13, is in the country illegally and wanted by ICE (U.S. Immigration and Customs Enforcement). He has been deported in the past only to return. He has ties to Kansas, Texas, Missouri and New York City.
Reyes-Sanchez is a Hispanic male, with brown hair and brown eyes. He stands 5 feet 5 inches tall and weighs approximately 130 pounds. He should be considered armed and dangerous and should not be approached.  
Anyone with information regarding his whereabouts is urged to contact law enforcement immediately.  Tips may be submitted via the USMS Tips app.
The USMS-led Western Arkansas Fugitive Task Force's mission is to arrest suspects wanted for violent offenses in the Western District of Arkansas. Participants include the USMS, Arkansas State Police, Arkansas Community Corrections-SRT, Benton County Sheriff's Office
Bentonville Police Department, Greenwood Police Department, Springdale Police Department
Union County Sheriff's Office, Columbia County Sheriff's Office and the Ashley County Sheriff's Office.
Additional information about the U.S. Marshals Service can be found at https://www.usmarshals.gov.
####
America's First Federal Law Enforcement Agency