U.S. Marshals Offer $2,500 Reward for Information Leading to Capture of VA Man on Malicious Wounding Charges
John Long, Senior Inspector
Capital Area Regional Fugitive Task Force
Washington, D.C.– The U.S. Marshals Service Capital Area Regional Fugitive Task Force is seeking the public's help and offering up to $2,500 for information that will lead to the arrest of a man wanted in Dinwiddie County on two counts of malicious wounding, felony domestic assault, violating a protective order and contempt of court.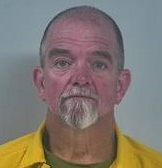 Craig Michael Dahlbeck, 56, is alleged to have assaulted his estranged wife and her roommate in a violent attack July 27, 2021, shortly after his release from Meherrin River Regional Jail in Alberta, VA.
Dahlbeck is 5 feet 6 inches tall and weighs approximately 160 pounds. He may have shaved his head or dyed his hair and beard dark brown or black. He frequently purchases silver top Copenhagen snuff. Authorities believe Dahlbeck, an experienced sailor, may be working as as a mechanic. He reportedly spoke often of traveling to Florida and the U.S. Virgin Islands.
In addition to Gloucester County, the City of Richmond and northern Virginia, Dahlbeck has ties in New York, South Carolina, Georgia, Florida, California and the U.S. Virgin Islands.
Anyone with information on Dahlbeck's whereabouts should contact the U.S. Marshals Service Tip line at 1-877-WANTED2 or text a tip via the USMS Tips App.
Additional information about the U.S. Marshals Service can be found at https://www.usmarshals.gov.
####
America's First Federal Law Enforcement Agency