U.S. Marshals Offer $2,000 Reward for Information Leading to Capture of Hopewell Man Wanted on Murder, Other Charges
John Long, Senior Inspector
Capital Area Regional Fugitive Task Force
Washington, D.C. – The U.S. Marshals Service Capital Area Regional Fugitive Task Force is seeking the public's help and offering up to $2,000 for information that will lead to the arrest of a man wanted in connection with a shooting death at a Hopewell convenience store April 3.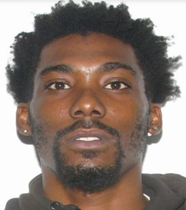 Demonte Kyrek Jones, 25, is the suspect in the murder of Willie Studivant, who was shot and killed at a Wawa gas station on Colonial Corner Drive.
The Hopewell Police Department issued a warrant April 3 charging Jones with murder, use of a firearm in commission of a felony, discharging a firearm with city limits, and reckless handling of a firearm.
Jones is a black male. He has black hair and brown eyes. He stands 6 feet 2 inches tall and weighs approximately 170 pounds. He should be considered armed and dangerous.
Anyone with information on Jones' whereabouts should contact the U.S. Marshals Service Tip line at 1-877-WANTED2 or text a tip via the USMS Tips App.
Additional information about the U.S. Marshals Service can be found at https://www.usmarshals.gov.
####
America's First Federal Law Enforcement Agency