U.S. Marshals Looking for Escapee
Subtitle
Reward up to $5,000 offered for info leading to capture
This is a place holder for subtitle.
Capital Area Regional Fugitive Task Force
Washington, DC – The U.S. Marshals Capital Area Regional Fugitive Task Force is requesting the public's assistance and offering up to $5,000 as a reward for information leading to the apprehension of a fugitive who escaped from the custody of the Virginia Department of Corrections on August 11, 2023.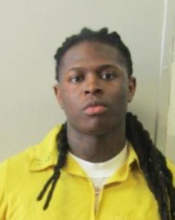 Naseem Isaiah Roulack, 21, escaped custody while seeking medical treatment at St. Mary's Hospital in Henrico, Virginia.
Roulack is a Black male, standing 5 feet 6 inches tall and weighing approximately 225 pounds. He has black hair and brown eyes.
Anyone with information regarding Roulack's location should contact local law enforcement, call the U.S. Marshals at 1-877-WANTED2 or submit tips via the USMS Tips app.
Additional information about the U.S. Marshals Service can be found at https://www.usmarshals.gov.
####
America's First Federal Law Enforcement Agency