U.S. Marshals Join the Search for Kansas City Homicide Suspect
Mike Stokes, Deputy U.S. Marshal
Western District of Missouri
Kansas City, MO
Kansas City, MO – United States Marshal Mark S. James announced today additional reward money for information leading to the capture of a person wanted for homicide.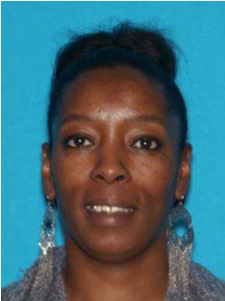 KaShawn Nicole Roper is wanted by the Kansas City Missouri Police Department (KCPD) in connection with the shooting death of 23-year-old Jazmyn Henrion. A second person was also shot in the incident but survived their injuries. Kansas City Missouri Police Department investigated the shooting incident that occurred near 68th and Cleveland Avenue on August 23, 2020. It is alleged that Roper fired a gun into an occupied vehicle striking the two victims. The Jackson County Prosecutor's Office charged Roper on September 10, 2020 with Murder 2nd Degree, two counts of Armed Criminal Action and Unlawful Use of a Weapon.
Roper is aware that she is wanted and is actively eluding law enforcement. She is a black female, 5'5" tall and 120 pounds. Anyone with information is encouraged to come forward. The U.S. Marshals Service (USMS) is offering a reward of up to $2,500 for information that leads directly to her arrest. To claim the reward, information must be reported directly to the Marshals Service. Please contact Deputy United States Marshal Jordan Rewald at (816) 512-2014.
The U.S. Marshals Midwest Violent Fugitive Task Force-Kansas City Division, operates in conjunction with members of the Kansas City, Independence and St. Joseph Missouri Police Departments, Jackson, Cass, Clay and Buchanan County Sheriff's Offices, Missouri State Highway Patrol and other federal law enforcement partners. The task force objectives are to seek out and arrest fugitives charged with violent crimes, drug offenses, sex offenders and other serious felonies. It also provides direct support to law enforcement agencies in tracking down and recovering missing children.
Nationally the United States Marshals Service fugitive programs are carried out with local law enforcement in 94 district offices, 67 local fugitive task forces, 8 regional task forces, as well as a growing network of offices in foreign countries.
Tips can be submitted anonymously to the Greater Kansas City Crime Stoppers via the TIPS hotline at (816) 474-8477, on the internet at KCcrimestoppers.com or on the free mobile app available at P3Tips.com. Up to a $2,000.00 cash reward is eligible through Crime Stoppers and you will remain anonymous. Tips can also be submitted to the U.S. Marshals service directly by downloading the USMS Tips app to your Apple or Android device. It can also be accessed online at USMS TIPS. Follow the latest news and updates about the U.S. Marshals Service on Twitter: @USMarshalsHQ 
Additional information about the U.S. Marshals Service can be found at https://www.usmarshals.gov.
####
America's First Federal Law Enforcement Agency