U.S. Marshals Increase Reward to $5,000 for Information About Murder Suspect Coreyon Joseph Brown
Anne Murphy, Public Affairs Officer
Northern District of Ohio
Cleveland, OH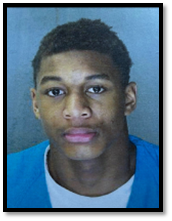 Toledo, OH – The United States Marshals Service is offering a reward of up to $5,000 for information leading directly to the arrest of fugitive, Coreyon Joseph Brown (19). Brown has been identified as the suspect in a murder which occurred on June 28 in the West Willow area of Ypsilanti, Michigan. The murder allegedly stemmed from an argument that occurred over Facebook. Brown allegedly went to the victim's house and shot and killed the victim outside their residence.
Brown, 19, stands approximately 5 feet 9 inches and weighs about 160 lbs. with black hair and brown eyes. He was last known to be living in the Ypsilanti, MI area with ties to Toledo, OH.
Anyone with information concerning any wanted fugitive can contact the Northern Ohio Violent Fugitive Task Force at 1-866-4WANTED (1-866-492-6833), or you can send an web tip. Reward money is available, and tipsters may remain anonymous.
Additional information about the U.S. Marshals Service can be found at https://www.usmarshals.gov.
####
America's First Federal Law Enforcement Agency