U.S. Marshals in Florida Arrest 15 Most Wanted DC Murder Suspect
Brian Kim, Deputy U.S. Marshal
Capital Area Regional Fugitive Task Force
Washington, DC - The U.S. Marshals-led Florida Caribbean Regional Fugitive Task Force today arrested a District of Columbia murder suspect who had been added to the agency's 15 Most Wanted list one month ago.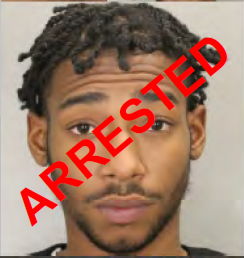 Nyjell Outler, 19, was arrested in West Palm Beach without incident. Members of the Florida Caribbean Regional Fugitive Task Force were acting on a collateral lead sent by the Capital Area Regional Fugitive Task Force, who adopted the case in September 2021. 
Outler is alleged to have shot one man and killed another while attending a gender reveal party March 20, 2021, in the unit block of Madison Street NE. At the time of the shooting, Outler wore an ankle monitor and was on pre-trial release for a gun charge involving an AK-47 style rifle.
The U.S. Marshals Service and the Metropolitan Police Department had each offered a reward of up to $25,000 for information leading to Outler's arrest and conviction.
"I know we were all very gratified to hear of Nyjell Outler's arrest in Florida today," said U.S. Marshal for the Superior Court of the District of Columbia Robert Anthony Dixon. "I commend the members of the Marshals fugitive task forces and our partners who have worked so diligently to find him so he can finally face justice."
"I am grateful for the collaborative investigative efforts between Metropolitan Police Department members and our federal partners at the USMS that led to the apprehension of Outler, holding him accountable for his reckless actions," said Robert J. Contee III, Metropolitan Police Department Chief of Police. "Thank you to our community, near and far, that led us to his whereabouts and ultimately aided in bringing long sought-after justice to the victims' families."
The U.S. Marshals Service established the 15 Most Wanted Fugitive Program in 1983 to prioritize the investigation and apprehension of high-profile offenders considered to be some of the country's most dangerous fugitives – typically career criminals with histories of violence who pose a significant threat to public safety.
Additional information about the U.S. Marshals Service can be found at https://www.usmarshals.gov.
####
America's First Federal Law Enforcement Agency