U.S. Marshals Elevate Capital Murder Suspect to 15 Most Wanted Status
Subtitle
Reward up to $25,000 for information leading to arrest
This is a place holder for subtitle.
Jarrid Lake, Deputy U.S. Marshal
Northern District of Indiana
WASHINGTON – The U.S. Marshals Service (USMS) added an Indiana man wanted for capital murder in Alabama to its 15 Most Wanted fugitives list, offering up to $25,000 as a reward for information leading to his arrest.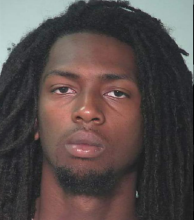 Joshua Smiley, 26, is the suspect in an August 2021 shooting death of a 30-year-old man on Amsterdam Street in Mobile, Alabama. U.S. Marshals also want Smiley for federal bond violation on a federal drug charge in Fort Wayne, Indiana.
Smiley was convicted in 2019 for his role in a 2018 fatal shooting in Fort Wayne, receiving a five-year sentence in prison, with two years suspended.
"Smiley has been added to the U.S. Marshals 15 most wanted list due to the heinous nature of his crimes. I am confident with the help of the community we can bring this fugitive to justice," said Ronald L. Davis, Director of the U.S. Marshals Service.
Smiley is a Black man, standing 6 feet 5 inches, and weighing approximately 170 pounds. He has black hair and brown eyes and tattoos on both arms.
Smiley may be in Mobile, Fort Wayne or Indianapolis. He is known to carry firearms and should be considered armed and dangerous. Anyone with information regarding Smiley's whereabouts is urged to contact the U.S. Marshals Service at 1-877-WANTED2 or use the USMS Tips App. Your information will be taken in strict confidence. Your anonymity is guaranteed.  
The U.S. Marshals 15 Most Wanted fugitive program draws attention to some of the country's most dangerous fugitives. These fugitives tend to be career criminals with histories of violence, and they pose a significant threat to public safety. Considered the "worst of the worst," 15MW fugitives include murderers, sex offenders, major drug kingpins, organized crime figures and individuals wanted for high-profile financial crimes. Since the program began in 1983, more than 250 15MW fugitive cases have been closed.
The U.S. Marshals Service has a long history of providing assistance and expertise to other federal, state, and local law enforcement agencies in support of their fugitive investigations. Working with authorities at the federal, state, tribal, and local levels, USMS-led fugitive task forces arrested more than 75,000 fugitives and cleared nearly 89,000 warrants in FY 2022.
Additional information about the U.S. Marshals Service can be found at https://www.usmarshals.gov.
####
America's First Federal Law Enforcement Agency