U.S. Marshals Capture 15 Most Wanted Fugitive in Indy
Subtitle
Capital murder suspect was on the run since August 2021
This is a place holder for subtitle.
Jarrid Lake, Deputy U.S. Marshal
Northern District of Indiana
WASHINGTON – An Indiana man who was placed on the U.S. Marshals Service 15 Most Wanted list seven days ago was arrested Tuesday at approximately 1:30 p.m. at a residence in Avon, a Hendricks County suburb of Indianapolis.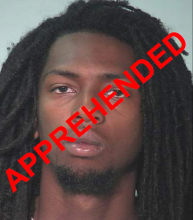 Joshua Smiley, 26, is the suspect in an August 2021 shooting death of a 30-year-old man on Amsterdam Street in Mobile, Alabama. U.S. Marshals also want Smiley for federal bond violation on a federal drug charge in Fort Wayne, Indiana.
Investigators with the U.S. Marshals Great Lakes Regional Fugitive Task Force developed information over the weekend that led them to Smiley's location.  Early Tuesday task force members observed Smiley at a residence in Avon and called additional Great Lakes Regional Fugitive Task Force members for assistance. Indiana State Police SWAT was also notified, and a search warrant for the address was obtained.  
The Indiana State Police SWAT initiated a surround and callout with Great Lakes Regional Fugitive Task Force members maintaining the perimeter.  Smiley eventually came out peacefully and was safely placed in custody.
Smiley was convicted in 2019 for his role in a 2018 fatal shooting in Fort Wayne, receiving a five-year sentence in prison, with two years suspended. 
"I commend the Deputy U.S. Marshals and Task Force Officers who worked tirelessly to get a dangerous fugitive off the street.  A special thanks is due to the attentive public who played a part in the arrest of Joshua Smiley," said Ronald L. Davis, Director of the U.S. Marshals Service.  "We truly appreciate those who take it upon themselves to provide information that helps us make our communities safer."
The U.S. Marshals 15 Most Wanted fugitive program draws attention to some of the country's most dangerous fugitives. These fugitives tend to be career criminals with histories of violence, and they pose a significant threat to public safety.  Considered the "worst of the worst," 15MW fugitives include murderers, sex offenders, major drug kingpins, organized crime figures and individuals wanted for high-profile financial crimes. Since the program began in 1983, more than 250 15MW fugitive cases have been closed. 
The U.S. Marshals Service (USMS) has a long history of providing assistance and expertise to other federal, state, and local law enforcement agencies in support of their fugitive investigations. Working with authorities at the federal, state, tribal, and local levels, USMS-led fugitive task forces arrested more than 75,000 fugitives and cleared nearly 89,000 warrants in Fiscal Year 2022. 
Additional information about the U.S. Marshals Service can be found at https://www.usmarshals.gov.
####
America's First Federal Law Enforcement Agency