U.S. Marshals Add Man Wanted in Murder of 6-Week-Old Baby to 15 Most Wanted Fugitives List
Subtitle
Up to $25,000 reward offered for information leading to arrest
This is a place holder for subtitle.
Stu Smith, Supervisory Deputy U.S. Marshal
Northern District of New York
Syracuse, NY
Washington, DC – The U.S. Marshals added Anthony Ojeda, aka Erik Jonathan Donas-Ojeda, 40, to the agency's 15 Most Wanted fugitives list, in connection with an infant's murder in 2019.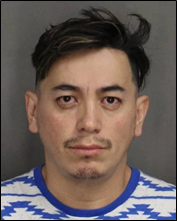 Ojeda is wanted by the Cohoes Police Department in New York for homicide. On Dec. 3, 2019, the Cohoes Police Department and local emergency medical services responded to a Cohoes area apartment for an unresponsive 6-week-old boy. The child, Eli Ojeda, died at the hospital. The subsequent investigation and autopsy revealed the baby died of acute methamphetamine toxicity and physical trauma.
As a result, Ojeda, who claimed to be the child's father, was charged with second-degree murder. Additionally, Ojeda's husband, Neil Garzon, was charged in Albany County (New York) Court with endangering the welfare of a child and hindering prosecution. Both Ojeda and Garzon were arraigned and later released on bond.
On Aug. 24, 2021, Ojeda failed to appear for a scheduled court appearance and made no notifications to the court regarding his absence. It was later determined that Ojeda and Garzon fled the area together to avoid prosecution. The Cohoes Police Department then formally requested the assistance of the U.S. Marshals in the Northern District of New York with locating and apprehending Ojeda.
"The U.S. Marshals will bring every necessary resource to bear to see that Anthony Ojeda answers the charges regarding baby Eli's death," said Ronald L. Davis, director of the U.S. Marshals Service. "Our sincere hope is that someone with relevant information will do the right thing and tell law enforcement where Ojeda is hiding, so we can arrest him safely and bring some closure to this community. Justice must be served."
U.S. Marshals investigators believe Ojeda and Garzon are together and receiving assistance from family members and associates, enabling them to elude capture. They were seen in August 2021 operating a black Nissan Sentra four-door sedan bearing Indiana license plate, FL905AAR.
Ojeda is approximately 5 feet 5 inches tall and weighs 145 pounds. Garzon is approximately 5 feet 5 inches tall and weighs 175 pounds.
The U.S. Marshals Service is offering a $25,000 reward for information leading directly to the capture of Ojeda.
Anyone with information about either man's location is urged to contact the nearest U.S. Marshals district office or submit a tip to the U.S. Marshals Service at 877-WANTED2 or via the USMS Tips App.
The U.S. Marshals established the 15 Most Wanted Fugitive Program in 1983 to prioritize the investigation and apprehension of high-profile offenders considered to be some of the country's most dangerous fugitives – typically career criminals with histories of violence who pose a significant threat to public safety.
Additional information about the U.S. Marshals Service can be found at https://www.usmarshals.gov.
####
America's First Federal Law Enforcement Agency