PA Man on U.S. Marshals 15MW List Arrested in FL
Subtitle
Fugitive was wanted for barber's killing in 2021
This is a place holder for subtitle.
Phillip Lewis, Deputy U.S. Marshal
Middle District of Pennsylvania
Washington, D.C. – A Pennsylvania man who was elevated to the U.S. Marshals Service (USMS) 15 Most Wanted list in June 2022 was arrested early this morning in Broward County, Florida, after he fled the scene of a bar fight and was stopped by local police.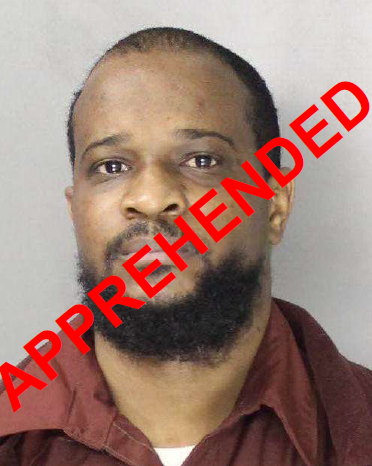 Michael Anthony Baltimore, 44, was wanted by the Carlisle, Pennsylvania, Police Department and the U.S. Marshals in the Middle District of Pennsylvania for homicide, assault and parole violation charges.
Baltimore is alleged to have shot to death Kendell Jerome Cook and injured another man at the GQ Barbershop on North Hanover Street in Carlisle on May 22, 2021. Cook was the shop's owner.
Baltimore, who is also a barber and had worked for Cook until 2019, was featured in several episodes of the TLC reality series "90 Day Fiancé."
Police in Davie, Florida, responding to a disturbance involving a weapon at a bar fight learned that one man had battered an employee and was in possession of a knife he was holding during the altercation and had also threatened to retrieve a firearm from his vehicle prior to fleeing the scene.
Officers learned the suspect had fled the scene in a silver sedan traveling north on University Drive. Officers located the vehicle around 2:41 a.m. today at the intersection of University Drive and Griffin Road and conducted a high-risk vehicle stop in the 9900 block of Griffin, detaining two people. The female driver was released from the scene after determining she was not the owner of the vehicle and had no involvement in the altercation earlier. The male passenger was placed in custody after a positive identification by the victim. It was determined that the vehicle was in his possession and the contents within were his. A search incident to his arrest revealed 2.3 grams of Fentanyl in his pocket, as well as a loaded handgun, over 200 grams of marijuana, and 818 ecstasy pills in the vehicle."
The arrestee gave a fake name to officers, and three fraudulent identification cards with his picture were found in the vehicle. A fingerprint scanner confirmed Baltimore's true identity, as well as the murder warrant in Pennsylvania and the fact that he was a USMS 15 Most Wanted fugitive.
He is being held in Florida, facing local charges.
"I want to thank the police officers in Davie, Florida for their diligence in arresting the fugitive," said U.S. Marshals Service Director Ronald L. Davis. "I am also very appreciative of the efforts of our partners in Cumberland County who have been working on this case. I hope his capture brings some sense of relief and comfort to his victims' families."
"We were very pleased to hear that Michael Baltimore was taken into custody early this morning in Florida," said Cumberland County District Attorney Sean M. McCormack. "I commend the police officers in Davie, Florida, for their alert response and safe apprehension of Baltimore. I also want to commend the U.S. Marshals Service and the Carlisle Police for their constant efforts over the past year and half to locate Michael Baltimore. Now that he is in custody, we can finally begin the court process where he will be facing first-degree murder charges for the May 22, 2021, shooting of Kendell Cook at the GQ Barber Shop in Carlisle, Pennsylvania."
"First, we again extend our deepest condolences to the Cook family for their loss of Mr. Kendell Cook on May 22, 2021," said Carlisle Borough Police Chief Taro D. Landis. "We are very thankful to our law enforcement partners: the Cumberland County District Attorney's Office, the U.S. Marshals Service and the Davie, Florida, Police Department and our own officers, for the successful and safe apprehension of Michael Baltimore. The Carlisle Police Department has and will continue working to make the Borough of Carlisle a safe place to live, work and visit."
The U.S. Marshals-led Middle Pennsylvania Fugitive Task Force combines the efforts of federal, state and local law enforcement agencies to locate and arrest the district's most dangerous fugitives.
The U.S. Marshals established the 15 Most Wanted Fugitive Program in 1983 to prioritize the investigation and apprehension of high-profile offenders considered to be some of the country's most dangerous fugitives – typically career criminals with histories of violence who pose a significant threat to public safety.
Additional information about the U.S. Marshals Service can be found at https://www.usmarshals.gov.
####
America's First Federal Law Enforcement Agency