Montgomery Fugitive Task Force
Area of Service
Middle District of Alabama
Description
U.S. Marshal: Jesse Seroyer Jr.
Courthouse: Frank M. Johnson Jr United States Courthouse Complex
Address: 1 Church Street, Suite A-100
Montgomery, AL 36104-4018
Phone:(334) 922-6960
Established on February 06, 1839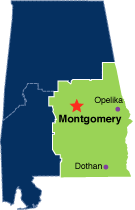 The policies and procedures of the various U.S. Marshals Service District Offices found on this website may vary depending on local rules, local needs, and legal and policy interpretations. These policies and procedures, and any variations among District Offices, are not intended to, do not, and may not be relied upon to create any rights, substantive or procedural, enforceable at law by any party or person in any matter civil or criminal. Nor are any limitations thereby placed on otherwise lawful U.S. Marshals Service prerogatives.